As the Dev Uthani Gyaras close to winter season approaches the Indians begin to plan for wedding of young marriageable members of their family. Not only Hindus but people of all religions in India are crazy of making the marriages a lifetime event. Months before the date is fixed and till the date of the wedding the people of both the sides keep running to markets to buy things to make all the ceremonies luxurious and memorable.
Being a grand occasion, marriages cannot be imagined without happy people carrying the most trendy fashionable dresses, jewellery, hairstyles and make up. Months before, beauty parlours and salons are booked not only for the bride and the grooms but for the parents, siblings, cousins and all the other relatives. Markets and online stores start displaying all wedding stuffs to make wedding day and the related days very special and memorable.
Fashion Styles on Other Important Days of the Wedding-
Let's have a look at fashion trends to make all the important days unforgettable
Engagement Ceremony :- Once the roka is done, preparation begins for the engagement ceremony. Matching bride and groom wear the latest fashion. A huge variety of options are for the groom, out of which Jodhpuri coat with churidar, breeches etc., a sherwani with various smart cuts, buttons aligned collar to bottom are the latest. A white kurta pajama with coloured jacket is also not out of fashion. Some opt a silken, ready to wear dhoti whereas others still like to opt a three piece or two piece suit with variations in bows and ties. Black shoes or jodhpuri juti and a chain or white or green pearl mala gives a complete look.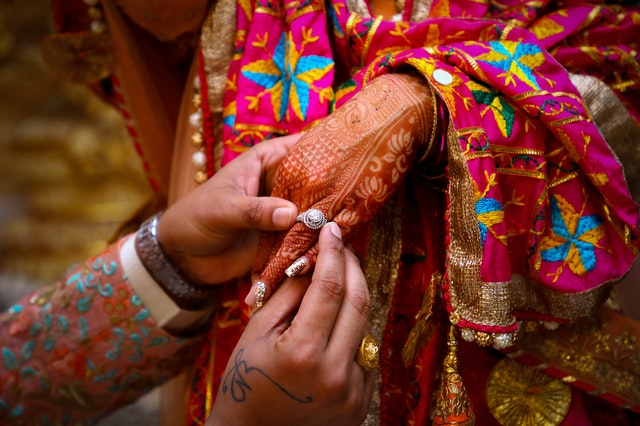 For the bride lehenga with pastel colours and silverwork is in for the engagement ceremony. Matching silver jewellery and small silver clips all over the hair and a big clip in a bun is a must. Salwar suits or saris may be opted in various states of India. These days girls choose wedding gowns also which are the most popular in peech and pink colour. Matching footwear and small matching purse or potli is also carried by some brides. Mother can choose a heavy sari, traditional jewellery flower in bun and father can get ready in sherwani, Jodhpuri coat and jutti, of course, don't forget a fancy safa. All the girls can choose lehenga, sharara or party gowns and boys can choose whatever they like but don't try to steal the limelight…. Your time is yet to come.
Haldi Ceremony :- It is the latest trend, ladies follow yellow outfits on this day to match with the haldi paste applied on face hands and legs. Mangal geets or the traditional wedding songs are sung on this day. Only light jewellery is enough to match the inner glow of the bride and the grooms. Haldi rejuvenates skin.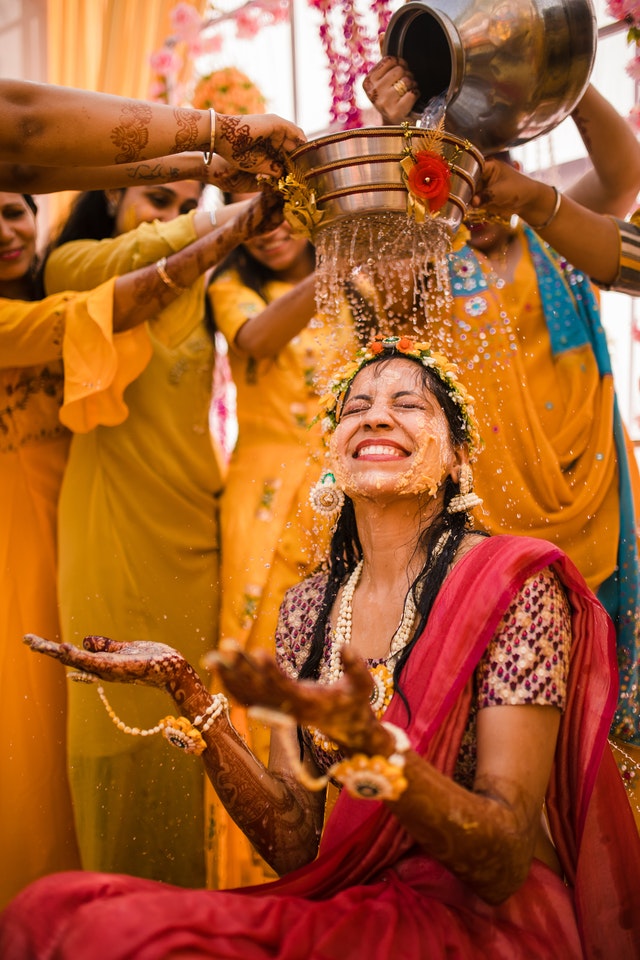 Mehandi Ceremony and Sangeet :- For these occasions heavy and bright coloured lehangas, sarees, suits with zari dupattas or sequins is good. Males can wear bright coloured kurtas with white churidars and juttis. Safa is optional. Boys and girls can wear anything that will match their dance performance that day to impress their special ones or to make the ceremony special.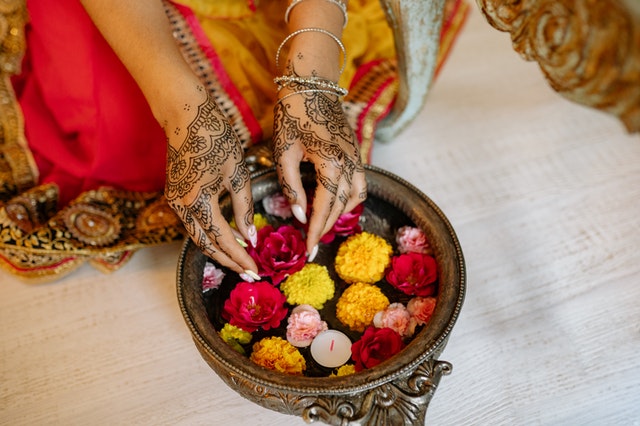 Light – camera and Action! Getting Ready to Become the Centre of Attraction :-
Finally, the wedding day has arrived, the girls and women are going crazy to look the most beautiful, fashionable and the centre of attraction of the whole gathering. Would you like to know which are the common things needed to look gorgeous? Come on! Let's find out –
Hairstyle- A stylish bun decorated with accessories like bun jewellery, mang tikka, pasha with flick playing on the face, open curly hair for girls and gel set hair for boys is in trend. Don't forget Kunal Kapoor's Bombay Dyeing hairstyle is still in trend to become a heartthrob. Brides prefer a big bun covered with flowers and minakari, kundan or diamond bun accessories giving a beautiful look through a net chunar. For groom any hairstyle that may not spoil his pagri or safa look. Yes, he can decorate his safa with floral sehra ,golden minakari or diamond safa pins or kalgi.
Make-up – Bridal make – up is the most important thing as it is going to change the complete look of the bride. Parlours catalogue the types of makeup with their charges and sample photographs. Bride has to choose any one and she will become the most beautiful bride as shown in the sample photographs. Foundation makes the base and dark and light concealers hide all dark spots.Contouring is also essential to highlight some facial features.Setting makeup with powder, eyebrows and eye makeup with glittery eye shadows eyeliner, mascara etc. are important. Blushers and highlighters with bright,glossy or mate finish lipstick will complete the make up.
Groom should also use foundations, concealers and highlighters to match with the bride's look. If he keeps a beard then he should use creams to make it soft and shave sharply to get the desired look. Facial and threading of eyebrows is a must.
Jewellery – For bride following jewellery is essential –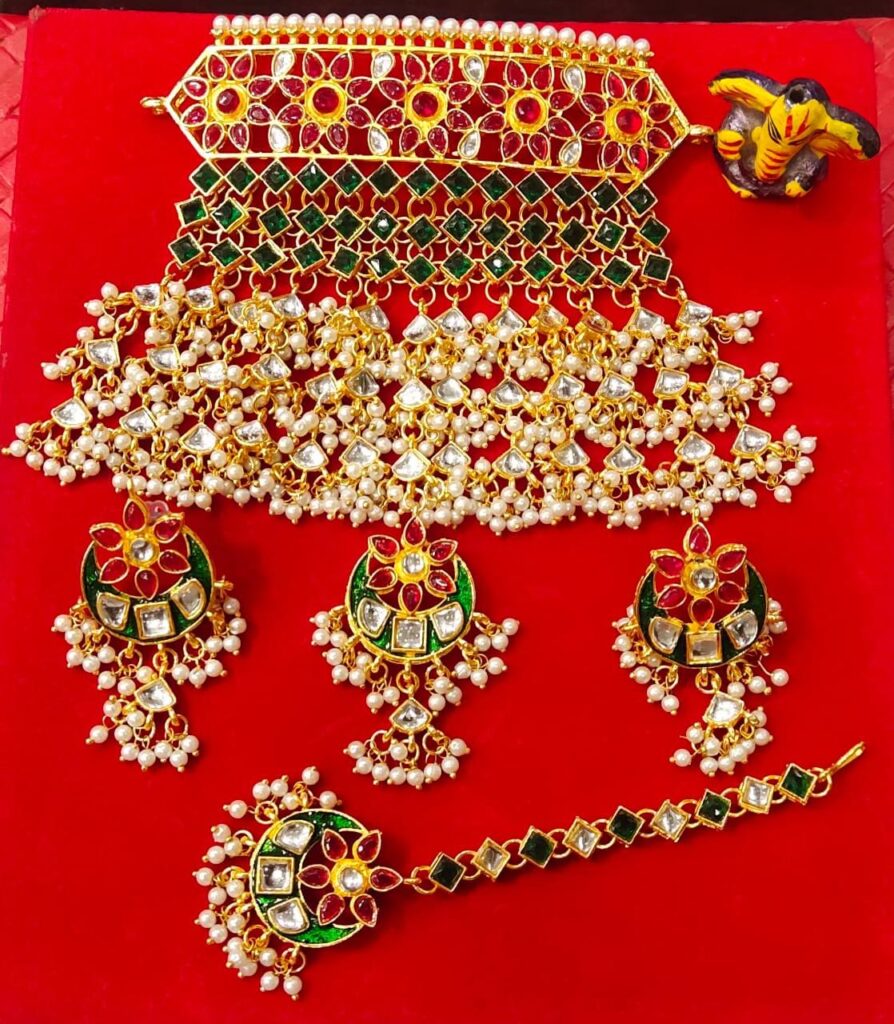 Maang tikka with matha Patti :-It may be heavy or light depending on the face of the bride. It should match with other jewellery items.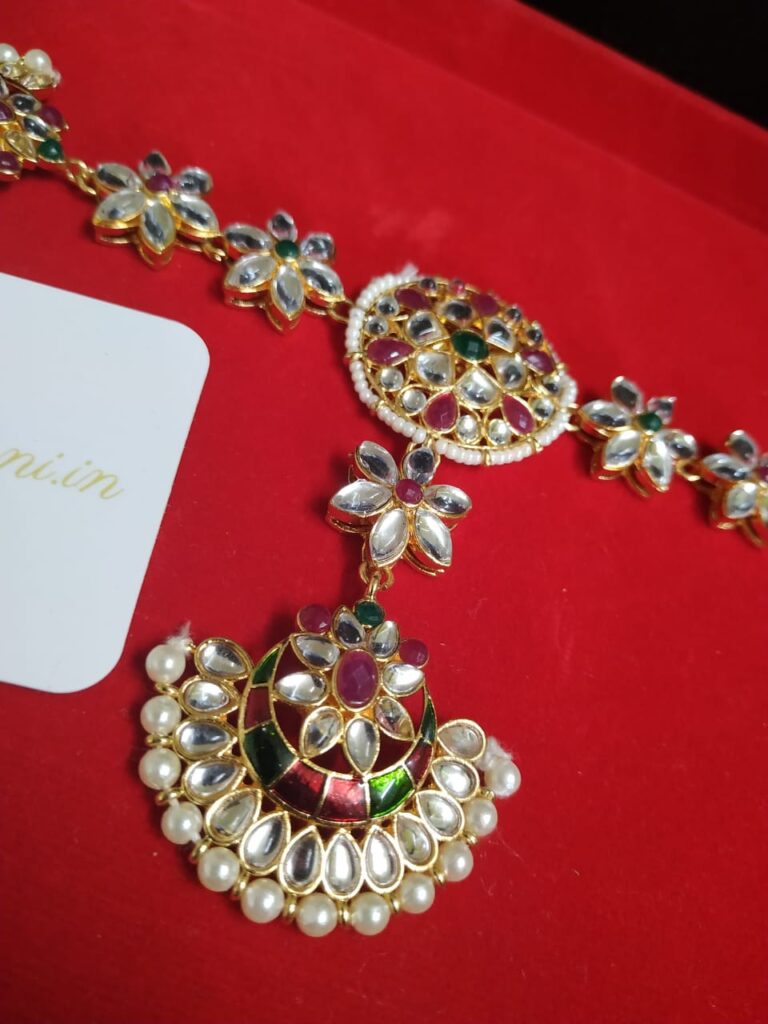 Gold necklace – With meenakari/Kundan /diamond work is another important jewellery piece for the bride.
Raani Haar:- A long haar with layers and pendants is called Rani Haar. It gives complete look to neck jewellery.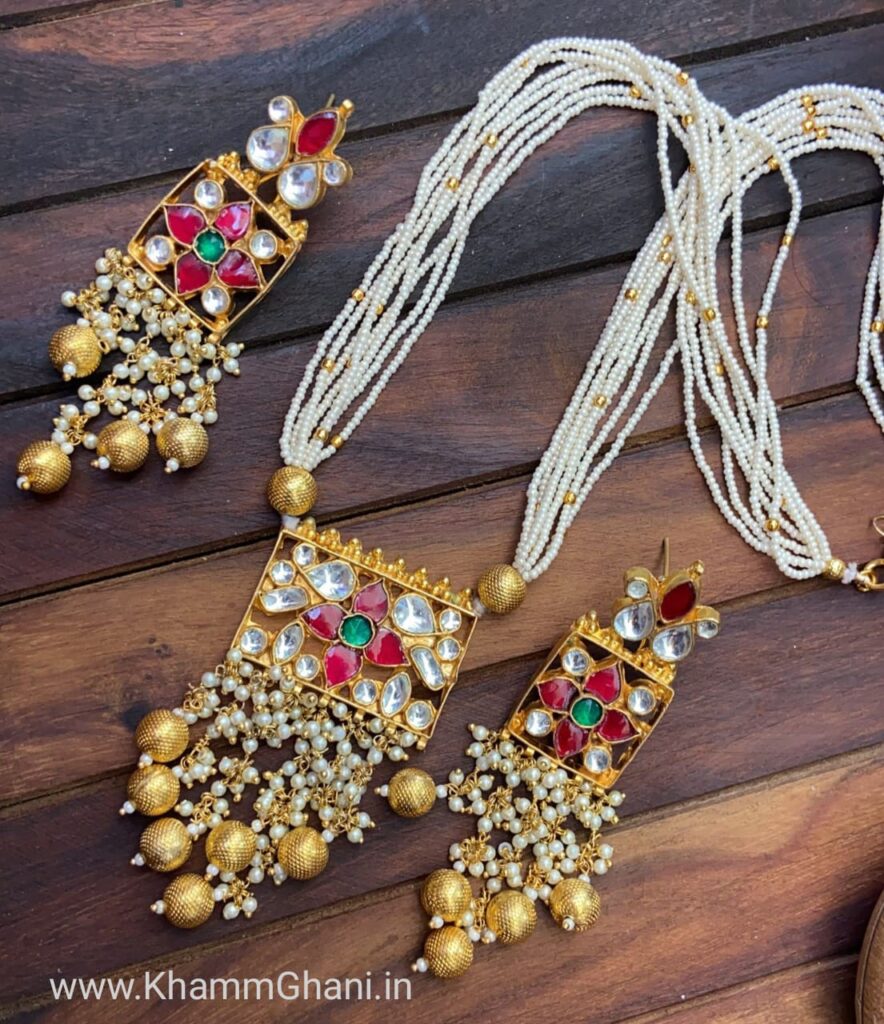 Earrings:- Lightweight or heavy but big sized and matching with the necklace and Raani Haar is recommended.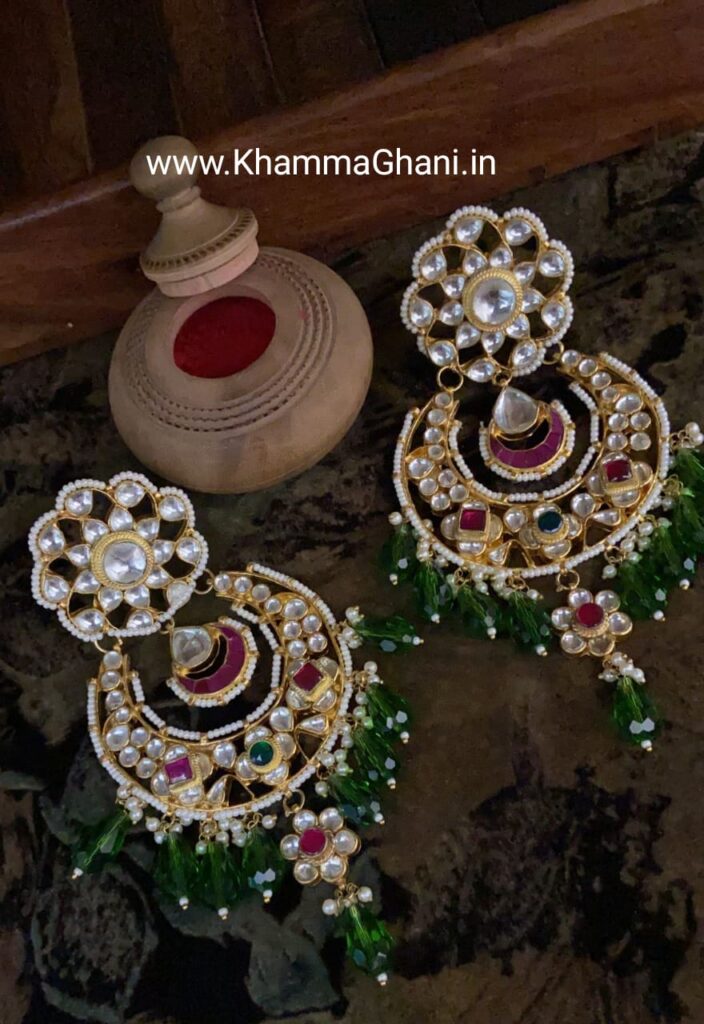 Bangles:-Wedding is the right time to wear heavy, well-crafted bangles with pearl, stone or minakari work.
A hathphool, rings, anklets, toe rings and Kamarbandh- These jewellery are essential for a complete bridal look.
For groom also some essential jewellery pieces are there –
A necklace with green or white pearls and gold pieces looks nice. It should be of at least chest length. Five-string necklaces are very popular with a pendant. Other commonly used jewellery for grooms are gold chains, bracelets, cufflinks, brooches for turban / safa / turban kalgi
Sari and Blouse for Ladies – A heavy Banarasi with matching blouse is a must for all the ladies from both the sides. Silk sari with zari work is another choice. Paper silk and Mysore silk will also give a sober look to some simple and aged women. A huge variety with various materials, colour and designs are available for all segments of women with different fashion tastes.
Jutti / Footwear –

For men – Ethnic and traditional Punjabi, Jodhpuri juttis along with Sherwani looks amazing. Juttis and black and brown shoes with various front shapes can be chosen according to the dress. Leather sandles and chappals also suit with kurta payjama. Embroidered jutti wth kundan work is also a good option. Elderly people can opt for simple juttis also.
For Girls / Women – A variety of golden, silver, copper footwears are available to match with every girl's dress. Bellies with heel, without heel, simple,fancy and in every colour are ready to be the part of your collection.Traditional and ethnic juttis give an elegant look in wedding ceremonies which are in harmony with ever changing fashion.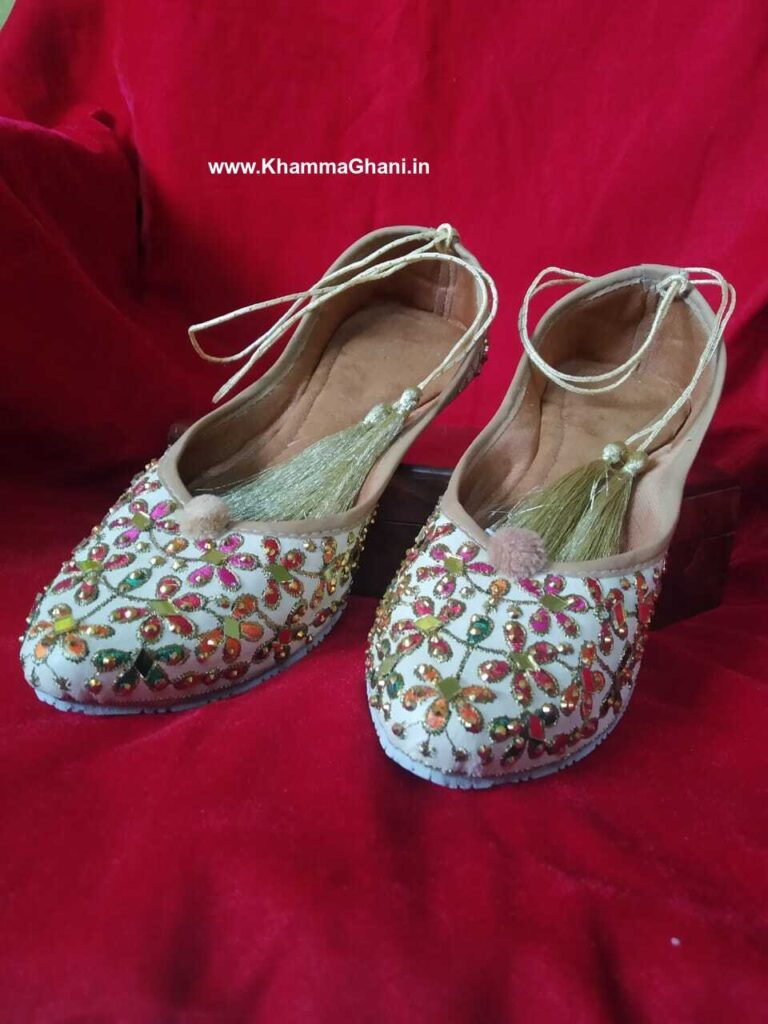 Safa/Pagdi :- Safa or pagadi is essential for all close relatives of both the families. Punjabis wear pink and marwaris wear kesariya(saffron) or pachrangi (five coloured) bandhni safa as a tradition but now it is difficult to choose one out of the varieties available.
Sherwani Buttons :- Buttons are the main attraction of sherwani. Big buttons tucked in a line close to each other are in fashion.Traditional pattern of five golden buttons with golden chain is evergreen wedding fashion. Many small, big, golden and silver and colourful buttons are available in the market.
Oh! so preparations are required for an Indian wedding. How are you placed this wedding season? Is your wardrobe ready to handle the fashion challenges? Don't wait, just dive into the ocean of fashion and get ready for the wedding season approaching.
Our Tumblr id: Tumblr