Rajputi Jewellery 10 Best Ornaments in the Market
Rajputi jewelry is exotic and a perfect mixture of old and modern style statements of fashion.
Rajasthan is known for its culture, dunes, endless deserts, palaces, forts, delicious food, and most of its Rajputi jewelry attire collection. Various rulers and royal personalities have brought artistic work on jewelry for a bride on a wedding occasion. The traditional jewelry of Rajasthan also famous as Rajputi jewelry has exquisite designs crafted by artisans. The Rajput Empire brought skilled craftsmen for jewelry that depicts the royalty of heritage and richness of culture that are a vital part of Rajasthan recently. Rajputi jewelry combines traditional designs with a modern trend that makes a bride flaunt graciously.
"Rajputi jewelry is a fusion of Royal Rajputana glory & dignity."
Rajputi to Mughal has a different history from craving places to designing pieces of jewelry in the land of Rajasthan. One can feel the royalty and uniqueness that are witnessed in Rajasthani weddings and bride jewelry. Rajputi jewelry is the oldest form of glory that makes you enhance your social status and lavish fashion statement. From earlier ages, people started to invest in gold ornaments and other accessories of Rajasthani with beautiful aspects of Kundan, meenakari, diamonds, Polki work, gems, and other beautifully handcrafted pieces.
"If you are dreaming to have royal and colorful Rajputi jewelry on a wedding or any special event, below described are some essential jewelry that reflects the culture of Rajasthan "
Timaniya: This choker set of uncut diamonds is one of the favorite ornaments in Rajasthan. It is made up of either pure gold or gemstones. Timaniya set is quite delicate and contemporary and resembles "bib" necklaces. These choker necklaces flaunt the beauty of a bride and have the delightful creation of an ornament. Buy Timaniya Rajputi jewelry at KhammaGhani. Timaniya is an extravagant combination of antique pieces with modern style. Sometimes it may have a moon-shaped necklace also and one can match up with a silver earring. It has a perfect shade and reminds the bride to have a stunning look on a wedding day.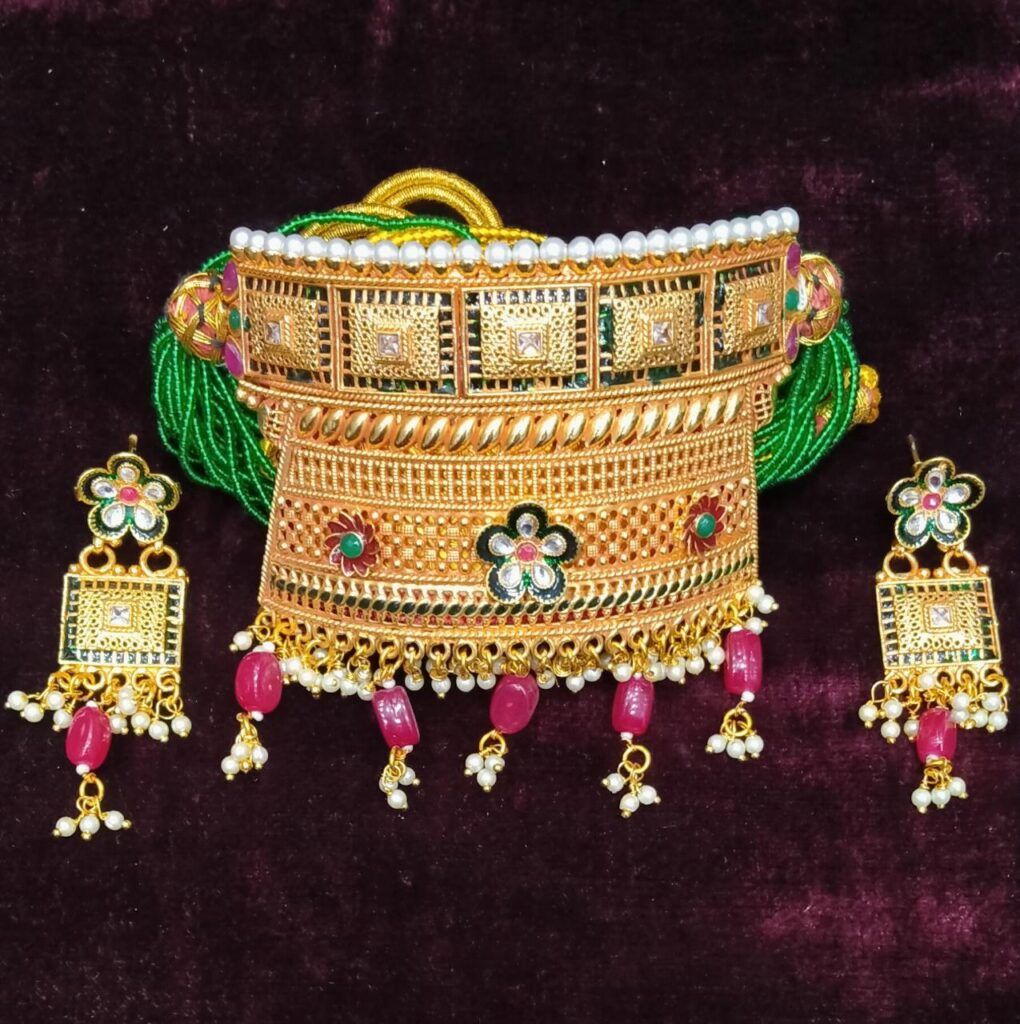 Khanch: This Rajputi jewelry is a band worn on the upper hand at the center with a rakhi attached to it. Many a time, Khancha is worn with Sheeshphool which is a small form of rakhi. It has its own distinct ancient gold finish work and floral concept. A bridal look is incomplete unique Khanch with her matching outfit.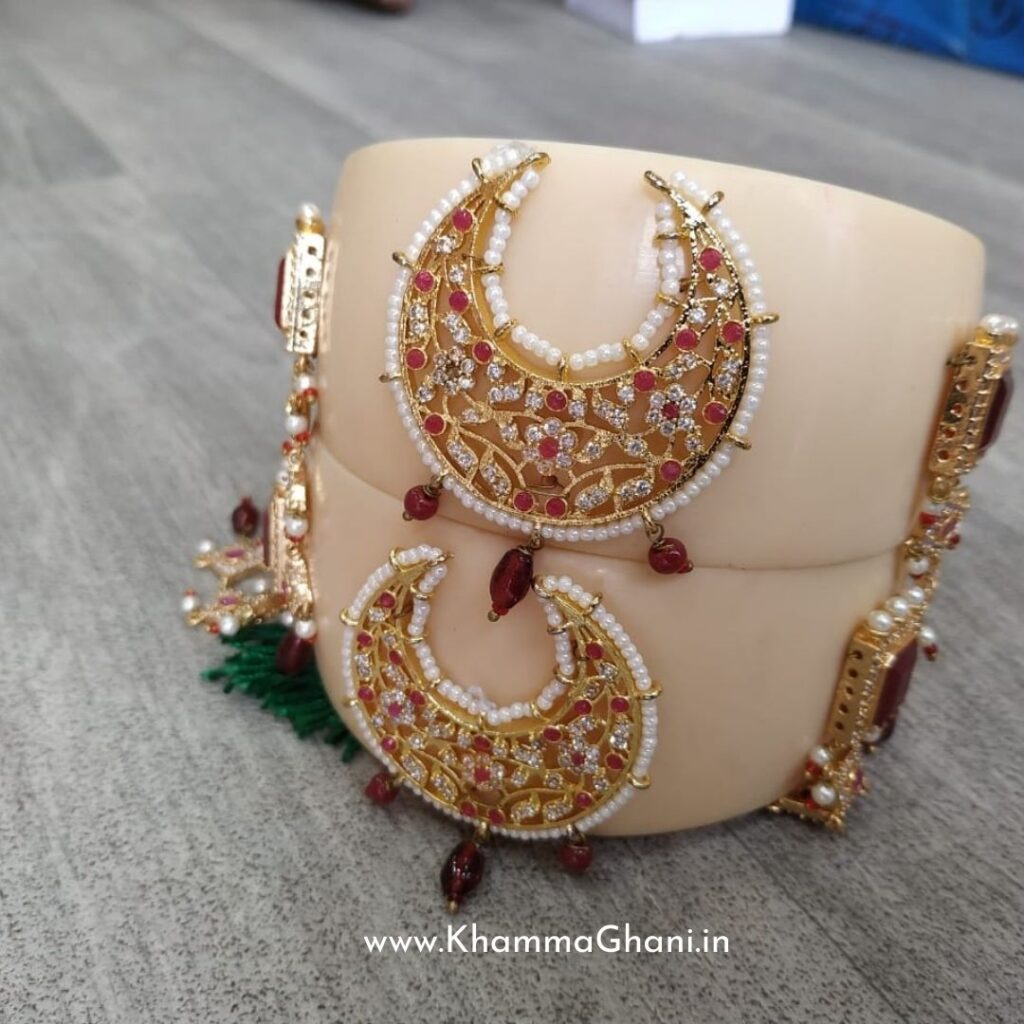 Loom:  Loom jewelry is made up of Kundan or pearls and is a handmade Rajputi Bajuband. It is an addition to a classy look with a Rajasthani Poshak. One can make exemplary designs made up of hand beading with fashioned striking yellow elements.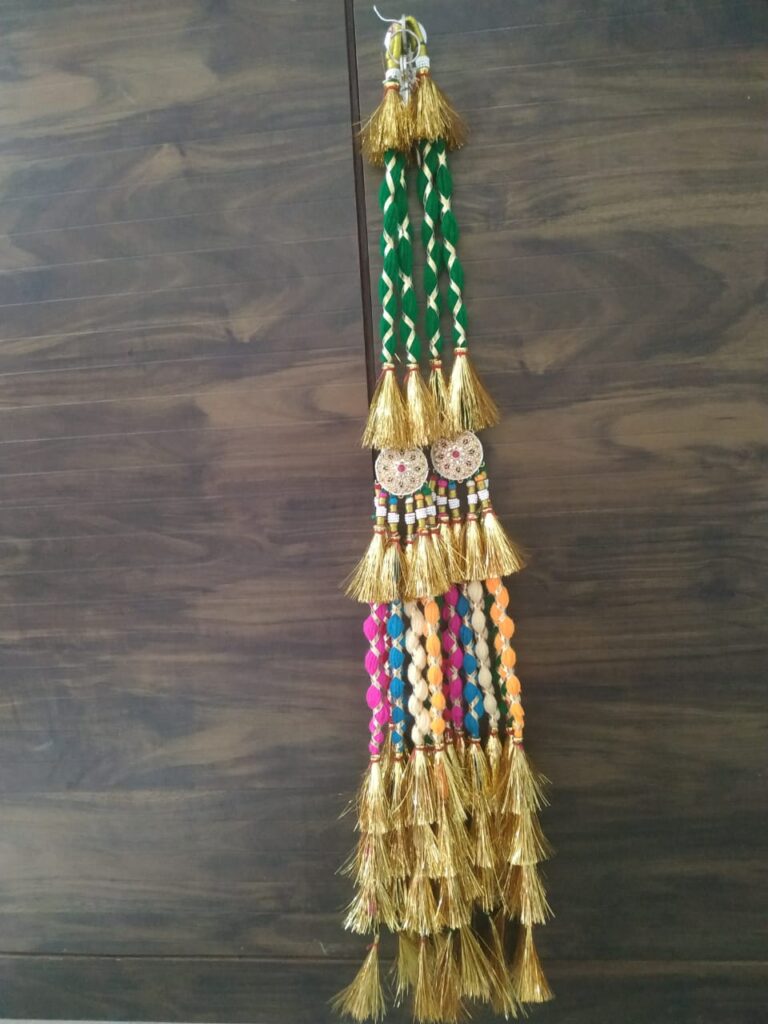 Poonchi: A Poonchi is a Rajasthani bridal ornament wearable at the wrist that looks like rakhi and is not to be confused with gokhru. It is also neither Kada nor bangles as it is shaped in a rectangular form at the upper side of the wrist and tied with two threads consisting of gold ledges. It is like a thick bracelet form and is now made up of Kundan work also. It is known for intricate patterns and artistic work to make perfect Rajputi jewelry.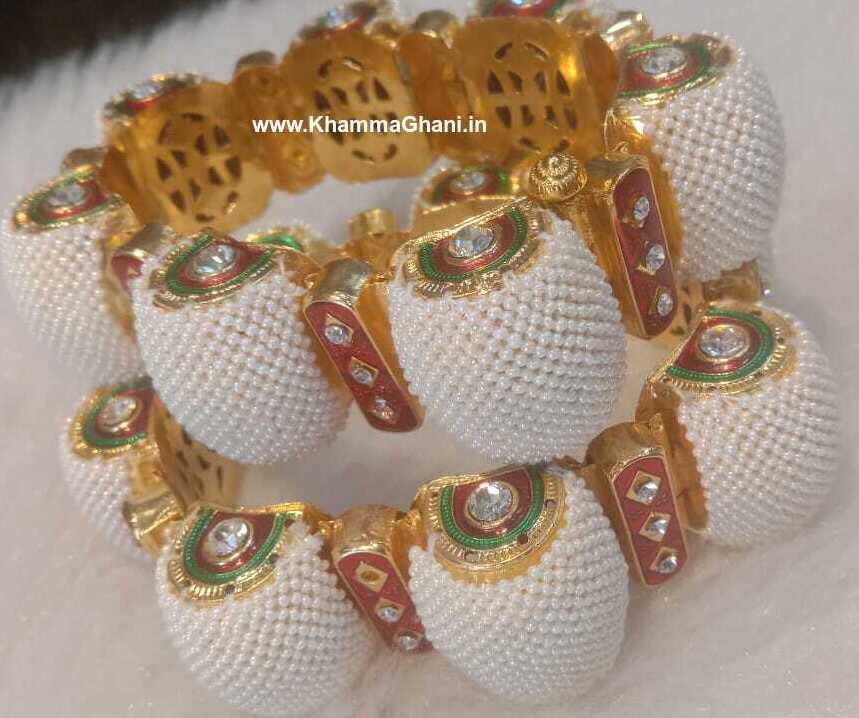 Hasli: It is a small but thick gold necklace worn by Rajasthani brides or by any woman during the festive time. It has classy designs that make a bride look more magnificent and elegant. Hasil is a sophisticated necklace having an eye-catchy design that reflects the royalty of Rajasthan and is handcrafted minutely with pure gold. It looks versatile to wear regularly as made by the art of craftsmanship.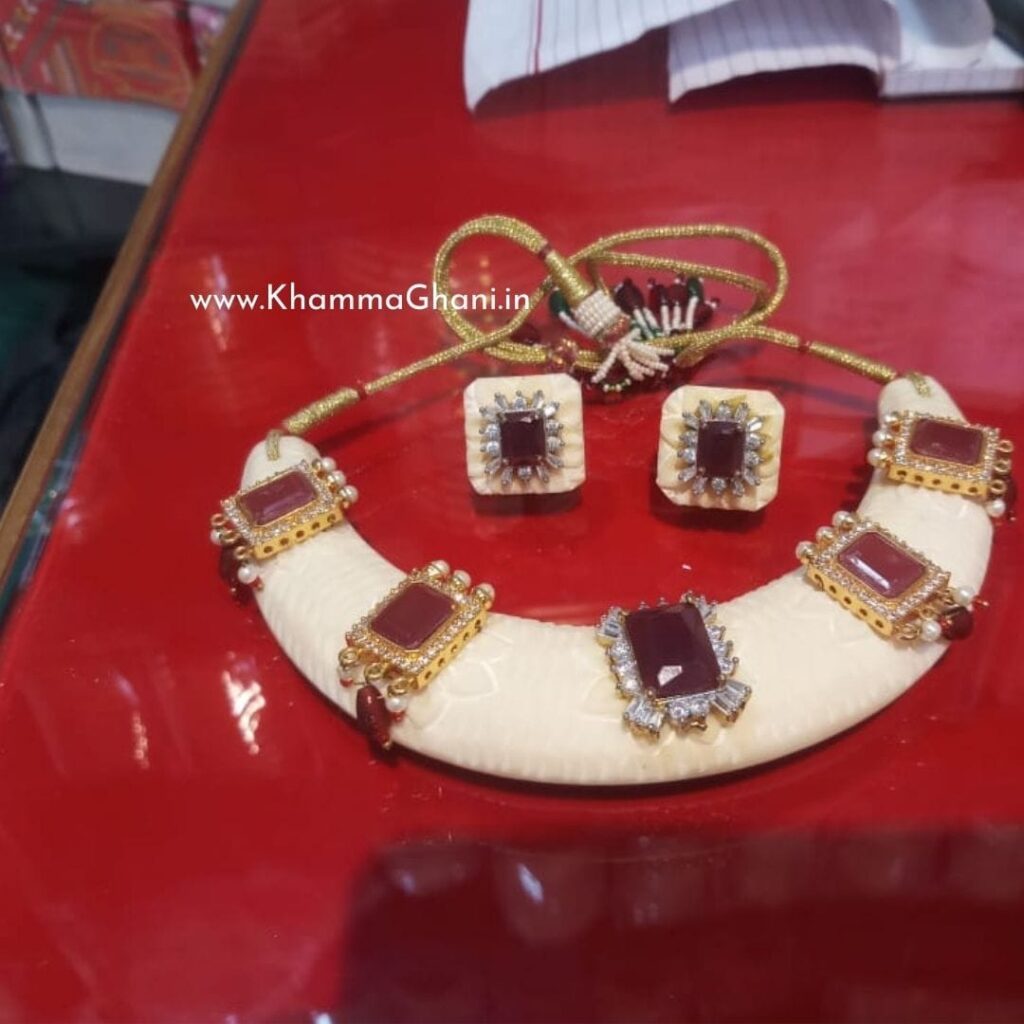 Burr Chura:  Generally it is worn by Marwari or Rajputi brides on a wedding time to signify marital status and has a stunning design engraved on a gold set of bangles. Burr Chura Rajputi jewelry set is an exclusive piece handcrafted by an artisan and available in high quality. It is designed exclusively for brides using gold and diamond and inspired by ancient symbolic fashion icons.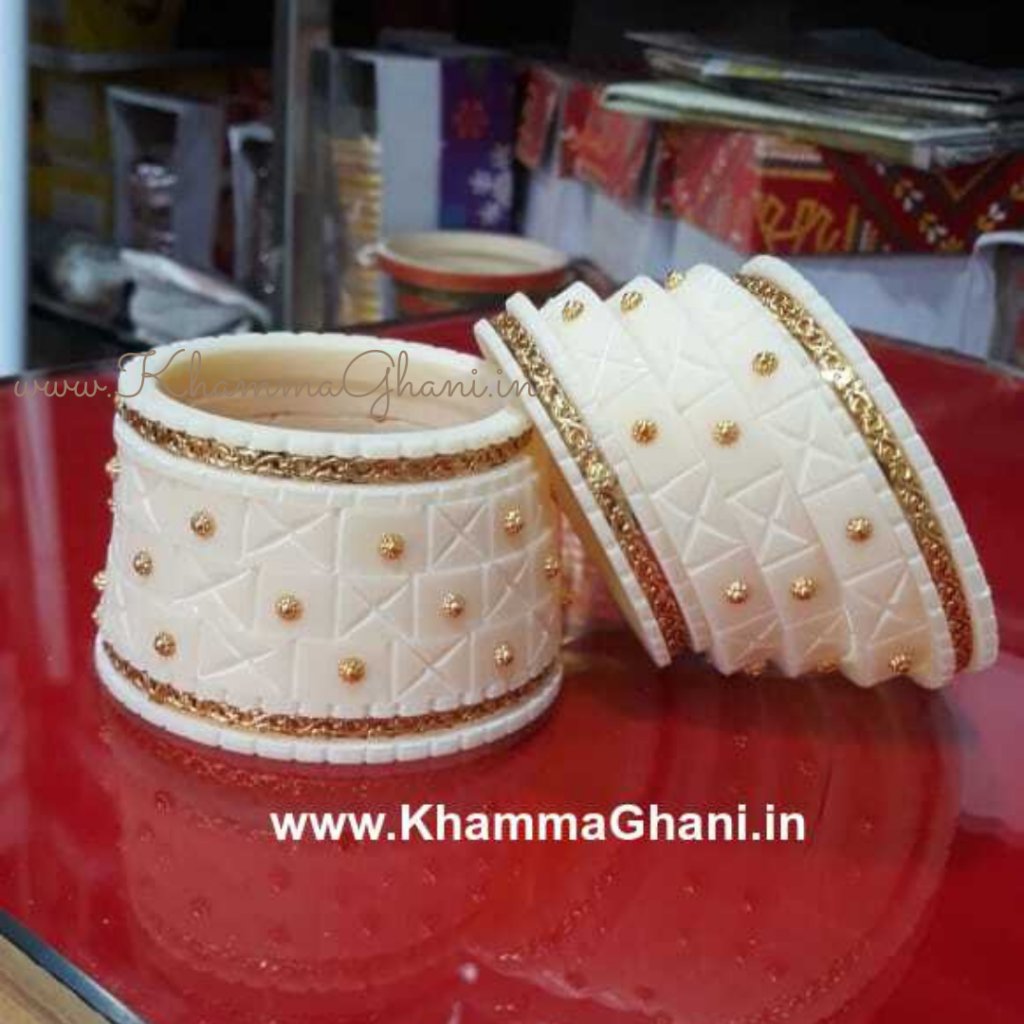 Bajuband:   A Bajuband is an armlet worn on the biceps of the bride in Rajasthan as an integral part of Rajasthani bridal jewelry in a rope shape with stones and pearls work on it. It makes the bride's arms and hands too graceful to grab everyone's attention. Meenakari work is designed and initially, it was worn by men known as Angada in Rajasthan. In Rajputani times, designs of crocodiles and snakes were very renowned and now available in modern style also.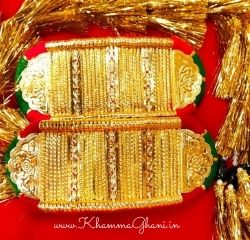 Aad: A prominent Rajasthani neck ornament is known to Aad in their language. Aad is the very oldest traditional small-sized choker either in a square or rectangular shape to cover your neckline. It has a modernized design and Kundan work with two strings to make the bride glance gorgeous. One can have a queenly look impressive on their big day by having aad jewelry.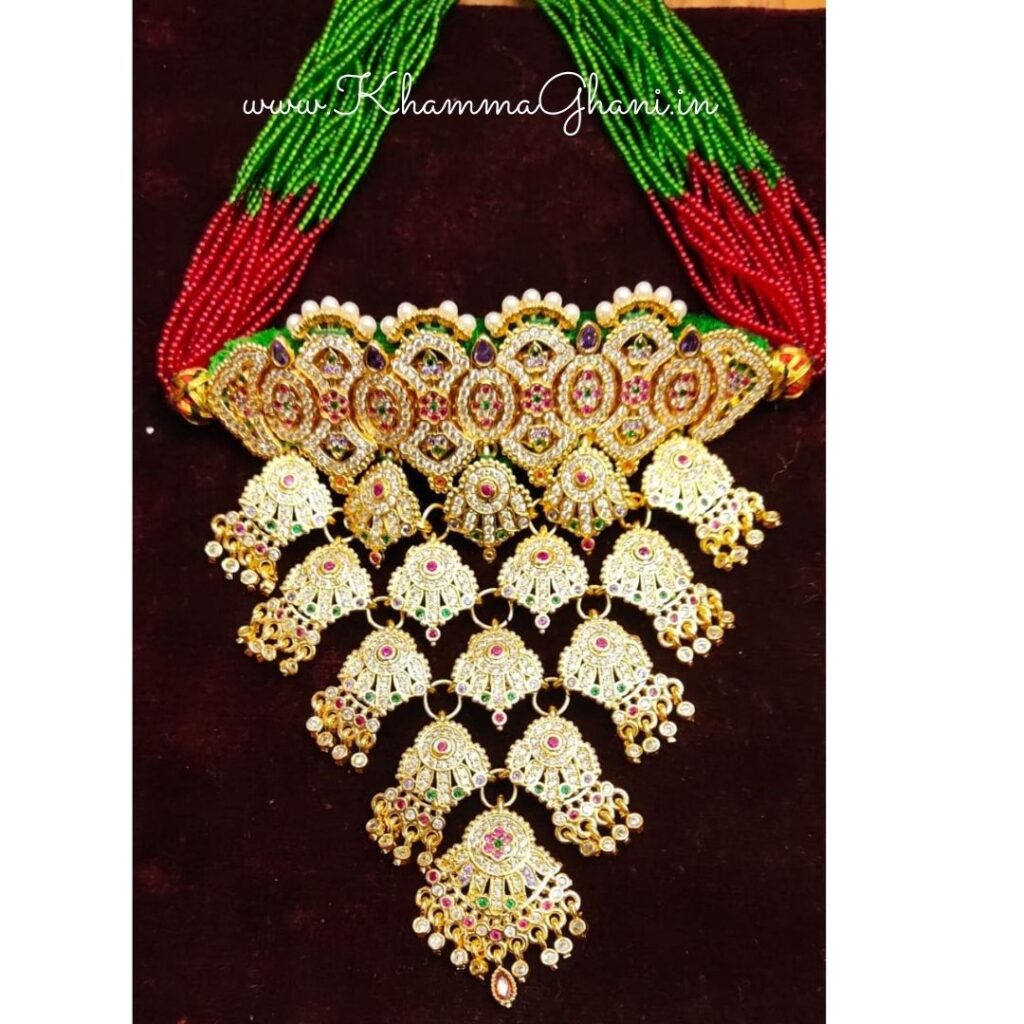 Gokhru: It is traditional Rajasthani bridal jewelry-like bangles having two red stones in circular brooches joined by a chain. It is worn during wedding time by the bride to show status and is available in gold-plated artistic work. It is a stunning accessory made up of Kundan and precious stones and has dignified designs.
Rakhdi / Borla: Rakhdi is the most relevant jewelry for the Rajputi bride. It is a bell or spherical-shaped Maang tikka of golden or Kundan art accompanied by Sheeshpool that gives an innocent face to a bride. It is the simplest jewelry yet precious.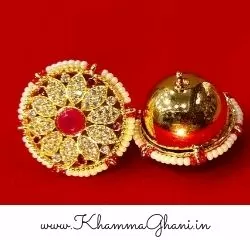 "Rajputi jewelry is all about grand and epic, having the royal and grandness of a bride to glitz up a wedding occasion."
Rajasthani Rajputi jewelry is always heavy with a variety of designs and a glamorous look for a modern bride. Kundan jewelry work takes a lot of time and utilization of artificial stone at a reasonable price.  The pink city, Jaipur is popular for meenakari work on ornaments. It is engraved with designs like blossoms, winged animals, and different shapes of fish. Polki jewelry is in a form of a diamond and is not polished with a unique shape and sparkle of jewelry.  Jewelry is the oldest form of traditional art. It fuses jewelry of gold and glass with multicolor to enrich Rajasthani culture.
Lac jewelry is the most beautiful and attention-seeking ornament in Rajasthan. They have charming and vibrant colors. Tribal jewelry is made up of silver and is huge in demand among Rajasthani women. This silver with broad hollow bell tribal accessories is loved by tourists also. Kundan Jhumaks is heavily studded with gems and stones that give astonishing look to a bride. Rani Haar is a long neckpiece made up of gold and diamond to give a regal look to a bride at a Rajputi wedding occasion.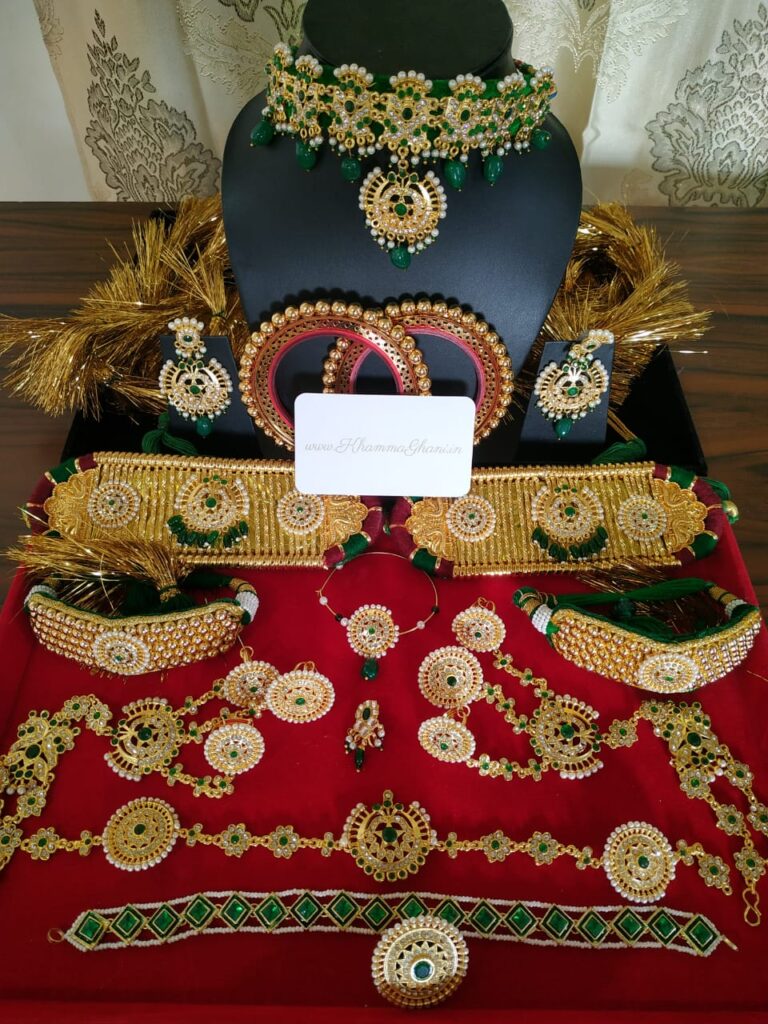 Rajasthani brides have lavish jewelry boxes heavily crafted with Kundan, gemstones, and unique designs. No one can beat the artistic work and rich heritage of Rajasthan. It flourished with skilled craftsmen using specialized techniques and become known across the globe. All these ornaments in a traditional Rajasthani wedding are wearable mostly with a drape of bandhani saree or heavy lehenga. To sleek beauty of Rajputi jewelry is a great combination of designs and craft work on it. Rajasthani wedding is a royal feast and jewelry available in the market has high strength and is light in weight. It is considered to look glamorous having earrings, bangles, necklaces, and specialized hand-prepared ornaments.  Each piece is designed with extreme care having its symbolic value. Rajputi jewelry is popular and trending as it is available in a wide range of selections of choice. Moreover, Rajputani ornaments resemble confidence and are beautiful. It always tries its best and motivates artisans to design new collections that attract tourists. Rajasthani jewelry popularity is just not limited to India but provides a great business at the international level.  There is a huge demand for ornaments especially Kundan and meenakari pieces are exported that raises the GDP of our nation. Also, almost every tourist prefers to visit the palace of Rajasthan and shop for pieces of jewelry from its local market at a higher rate. This jewelry is upgraded every time but keeps holding significant roots of heritage and culture. Marwari jewelry set has a vital role and is slightly different from Rajputi jewelry.  It is not required that Rajasthani traditional jewelry be available at your place as now easily collect from online surfing. At last, Rajasthani jewelry exhibits the best example of royalty coping with old customs and traditions with the latest design booming in the 21st century.
Visit our Tumblr Page – https://www.tumblr.com/blog/trendingfashionstyles