"Jewellery is all about fashion and style that reflects social status and ethnicity."
India is such a diverse nation having various types of traditions and customs. We can see tradition in food, art and jewellery according to religion. In our country, there are different types of ornaments that have been deeply rooted in its culture.  One of the best examples is the Kundan set from Rajasthan. Indian tradition has given a royal look to all accessories that one wears with matching clothing.
"The most popular type of jewellery in 2020 refers to be made from precious metals and stone to suit according to personality."
Recently the world is opting for social media to explore ideas about ornaments. They provide people with an opportunity to makeover themselves by having unique designer accessory pieces. Activities on social media platforms have increased gradually posting pictures. Everyone thinks to look elegant and graceful in different ornaments paired with the attire. One can choose to wear accessories as per the occasion like a party, event or wedding. Both men and women have their own ornaments as per culture. Whenever a fashion trend emerges; women are more likely to flaunt their new ornaments. There are a variety of designers out there if you want classic and trendy accessories with customization. They offer a product to suit the needs of the young generation specifically.
"Today artificial ornament is more preferred as it is durable and reasonably priced."
Considering different types of jewellery have two categories. The blog will describe two types of jewellery, one attached to a body part and the other depending on the material used.
Earring: Earrings are a part of accessories that enhance the beauty of the ear. After piercing the earlobe, earrings are worn. There are various unique and intricate designs available in the market. Many options from ear studs, and long hoops to dangling earrings are in fashion today. It has types of metals like gold, silver and non-precious or semi-precious stones.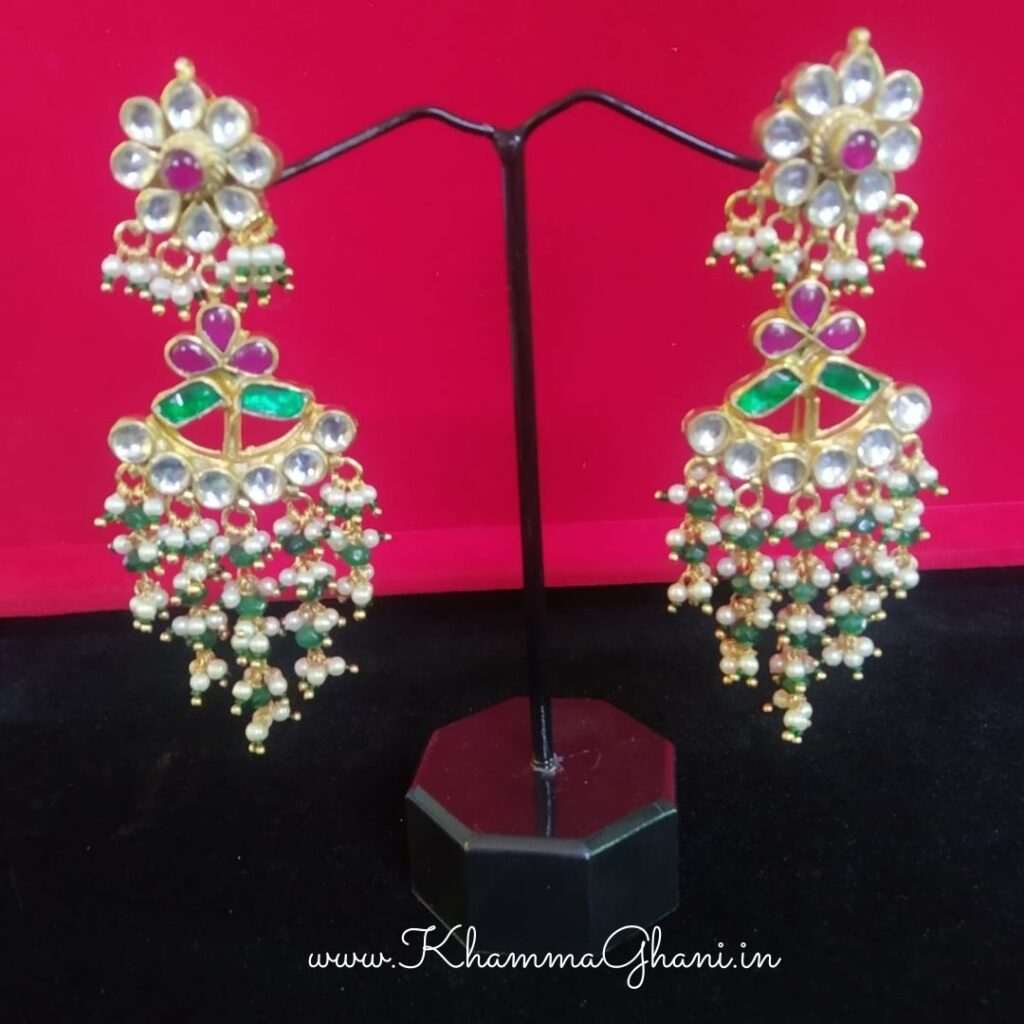 Necklace: For ages, women wear necklaces to adorn their charm and show status symbols. Precious stones and metals in the shape of round or chain form are used to make necklaces. The necklace has varieties of pieces like western to ethnic designs.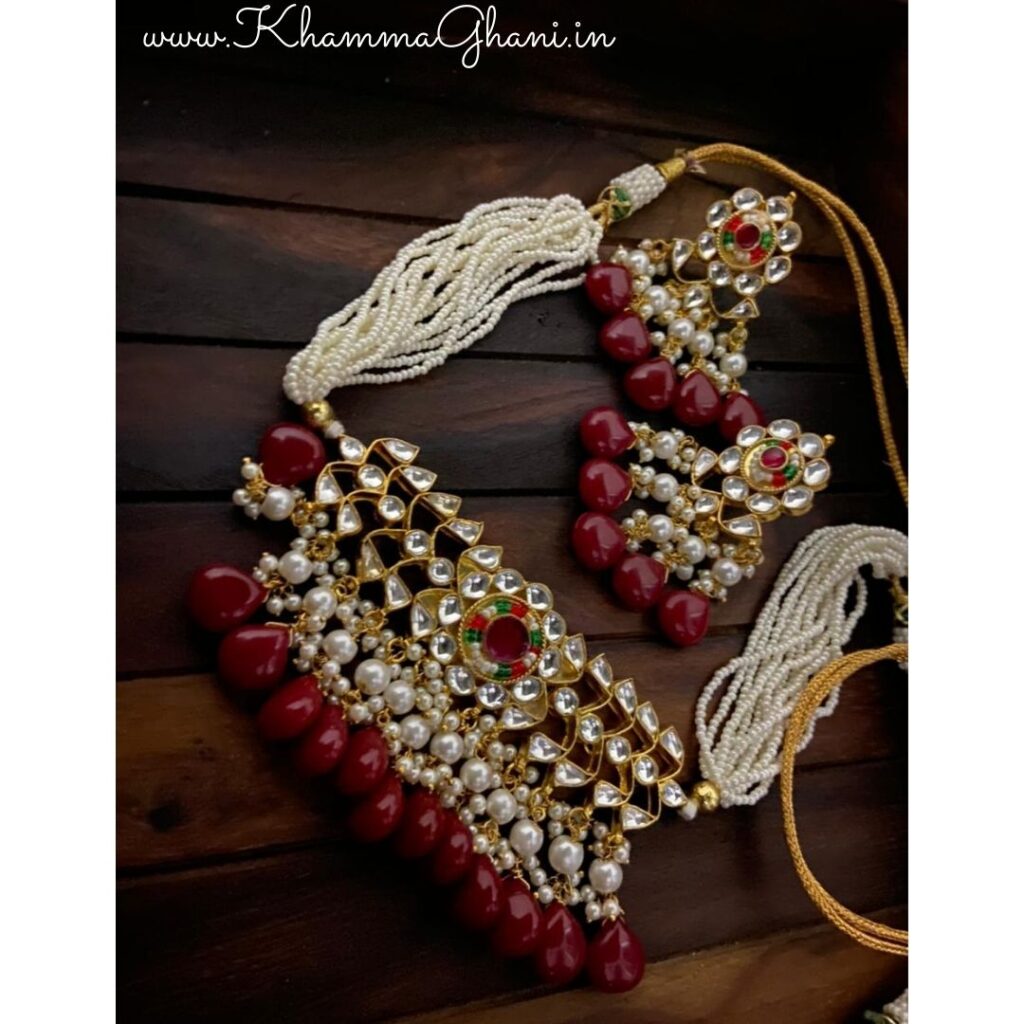 Bracelet: A bracelet is wearable on the wrist to glamour fashion. It comes in different designs and shapes and one can wear it at per event. It can be considered a fashion accessory having vibrant colours. Bangles and bracelets look similar but bangles are not flexible.
Rings: There are finger rings, nose rings and toe rings. Finger rings are generally round in shape and can match up with outfits. Gold and silver rings are in high demand globally. Now, the trend of platinum rings is increasing to create a fashion statement.
While we talk about jewellery, designs and material play a vital role. Under this category, the following types of jewellery are listed in the market:
Antique: Both terms 'antique jewellery 'and 'vintage jewellery' are interchangeable. But they are not the same as there is a difference in the time period. Antique ornament pieces are considered to be around a hundred or above years old. While a vintage one is only fifty years old, pieces are in a market. They are quite expensive and not easily accessible. These ornaments have royal classic designs and are always in fashion. Women usually wear it on any occasion or festive time. They are priced on the actual weight of precious stones and gems utilised for preparation.
Bridal:  You have definitely got an idea by the name itself that we are going to elaborate on the bride's ornament. Bridal jewellery is very essential for every bride on her big day. Mostly diamond and platinum accessories are wearable by brides all over the world. But in India as per tradition, a bride is adorned with gold-made jewellery famously called as solah shringar that includes Maangtikka, nose pin, necklace /choker, finger rings, bangles, Hathphool, Bajuband, toe ring, payejeb and many others to look graceful. They have markets that have a high amount of profit in India from November to March as a wedding time.
Temple: Temple Jewellery is worn by Bharatnatyam dancers. These jewellery are used to decorate god/goddess idols as per ritual in the South of India as per Hindu religion. They have intricate designs of peacocks, parrots, fishes or images of lord Ganesha/goddess Laxmi. Temple jewellery is usually stone studded with white sapphires, rubies and pearls to make ornaments like chokers (necklaces), earrings, bangles, waist/arm bands or hair-related accessories. Today there are two types of temple ornaments available in the market. One is fully prepared gold with precious gemstones. While others are made of silver and plated with gold and they are more affordable to buy.
Kundan: As per the Sanskrit language, the word Kundan defines "pure gold". Kundan jewellery is having uncut diamonds or Polki and 24-carat gold foil to hold the stone.  It has a unique design made of gems like rubies, sapphire, emeralds or pearls. Modern Kundan jewellery sets include turquoise or onyx as semi-precious stones. It is available in India everywhere but the pink city of Rajasthan, Jaipur from where it originated. Kundan accessories are costly and known to be luxurious due to expensive labour work and material availability. To make it more affordable and reach people, Kundan jewellery is made of glass instead of Polki diamonds.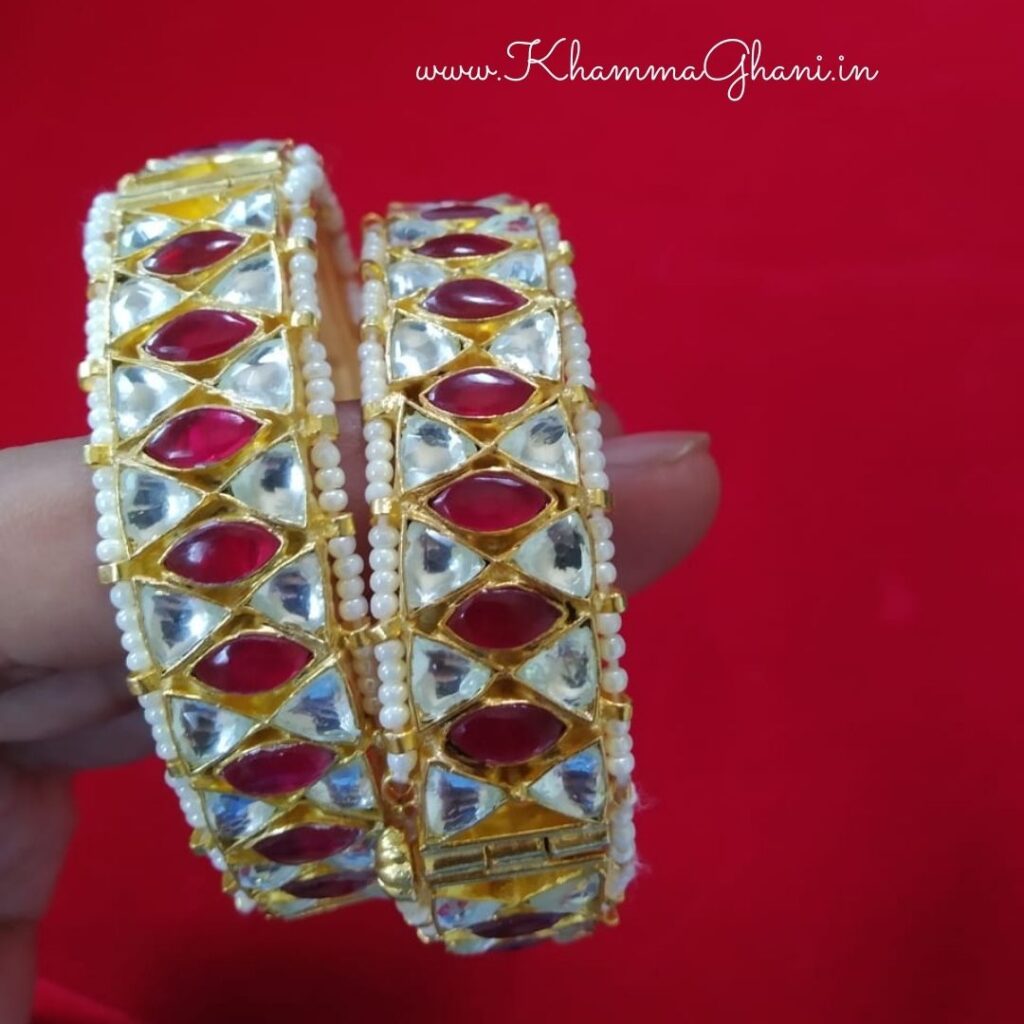 Bead: Bead jewellery is made from small decorative items with a whole pierce stringing having a variety of shapes. Many options are available for materials like paper, glass or wood and metals such as gold, copper, silver or brass to prepare elegant necklaces or earrings. Pearls and coral beads are organic compositions and on the other end, various semi-precious gemstone beads are prepared from minerals.
Meenakari:   The word 'mina 'is derived from the Persian meaning 'heaven'. Actually, meenakari jewellery gives a feel of heaven having pure art of making royal and eye-catchy designs and having vibrant colours. The craftsman is known to be minakari and they are like handmade jewellery having colourful distinct styles as per state in India. In Varanasi, the most popular colour is dusty pink while in Lucknow it is green and blue.
Handmade:  Handmade jewellery holds an essential place as it is prepared by artisans with their skill. Goldsmiths follow a process from melting gold to making attractive designs by adding gemstones. It is usually a time-consuming task to have an intricate design and a beautiful handmade jewellery piece.
Fashion: Fashion jewellery is trending with outfits and is generally cheaper in price as they are made of low metals like pewter or nickel. Fine jewellery is expensive and has a high risk to carry. An alternative to fashion jewellery is trending in the market to carry it on a regular basis and also fashionable.
Polki: The word 'Polki' refers to uncut or flat-cut diamonds introduced by the Mughals in India. They are not thick as regular or in round shape and also do not sparkle a lot. They have typically used for Kundan or Jadau jewellery formation.
Navratna: It is derived from a Sanskrit word where 'Nava' means a nine and 'ratna' means gems. As per Indian astrology, it is nine gems represented as per nine planets to remove all negative effects and impact good luck in one's life.
"In 2020 & 2021 there is a huge demand for trendy jewellery to flaunt glamour and charm that one can't take eyes off."
All the above types of ornaments require a streamlined process and skilled craftsmen with speciality to have an amazing accessory. People give ornaments to women on special occasions to surprise them. Their wide varieties are available both offline and online. There are many websites selling versatile accessories following the latest fashion and style demand in the market. Women cannot think of fashion without their jewels. It is even an essential need in daily life like women wear simple earrings, nose pins, bangles and a few traditional ornaments regularly.
Accessories are an integral part of Indian culture and fashion may change but the taste remains the same for it. Having an elegant design adds beauty for all age groups of people. It plays a significant role in Indian society to look attractive at many social events or occasions. Currently, the trend in demand is for traditional ornaments flooded with classic designs. One can get the best one by exploring a website if one wishes to buy online while visiting a retail store to see trendy ornaments. 
It is a myth that accessories are for rich people; every person can have a collection of accessories depending on their smart skills. In India, people prefer gold ornaments as it is a better return on investment and the bliss of prosperity. Today's generation is moving to platinum and diamond simple pieces of ornaments as they feel comfortable. Either gold or platinum, it's all about one's choice!
Hope reading this article helps you to gain knowledge about types of Indian jewellery existence.
Visit ours on our Tumblr page.