Lac Bangles & Chura (लाख की चूड़ियाँ और चूड़ा )
A brief about lac material, its history and the jewellery made out of it:
Came to Existence:
Lac bangles and Chura are fascinating millennial generation as they bring bright colours and lustre. Also, they give a traditional touch for women to go for ethnic collections on any occasion. The lac tradition started in India more than five thousand years ago and it combines the beauty of jewellery with heritage and uniqueness.
Lac Bangles Lovers:
Lac bangles and lac Chura are not only favourited for their origin in India but also for global users worldwide. It looks like a type of bracelet with the internal support of a metal ring. Bangles are popular accessories that are worn with the latest designs, and crafted by skilled artisans. They give a glamorous look to your hand with a perfect match either by modern or traditional technique.
Shades & Colours:
The lac bangles in various shades and colours beautify women's wrists. Both lac bangles and lac Chura are usually in single colours consisting of many different designs and shades to add beauty to Indian women's fashion accessories. They are multicolour with different patterns. One can easily find Lahariya, Bandhej, flower patterns and many others in the market. In India, lac jewellery represents art and culture having glimpses of beautiful jewel pieces.
Designs & Patterns:
Lac bangles and Chura are perfect to wear around the wrist to look impressive on the hand. They are the most attractive accessories that are available in the market with lovely designs, styles and many colours to be an eye-catcher for others. Lac jewellery is known for its exotic and colourful appearance among women in India. Lac is used in jewellery boxes, accessories and decorative pieces in traditional patterns. Bangles hold a significant place in a woman's life, especially divine for newly married. They are decorated and embedded with pretty stones and exclusively in different colours.
Lac bangles are made up of resinous substances that originate from West Rajasthan. It is famous for hundreds of years. They are easily available in the local markets of Jodhpur, Jaipur and Udaipur. They have a multipurpose design adding special quality to their beauty. Lac bangles are auspicious for newly married women to the extent that it is available everywhere now.
The difference between Lac Bangles & Chura:
For a layman, it is difficult to differentiate between Lac bangles and Lac Chura. Lac bangles and Chura have slight differences in size, weight, shape thickness and design. Lac bangles are worn on both casual and formal wear, while lac Chura is ideal Rajasthani jewellery that depicts the old charm and elegance of Indian women. Chura has fine holes while lac bangles have different colour patterns. They are not just stylish but also give ethnic look to this historical masterpiece. Lac Chura is like an ancestor of lac bangles. It is with a small round pendant of lac. Both are separate jewellery of Rajasthan. Lac bangles are made up of clay or stone while lac Chura is richly carved with flowers and leaves.
The Making of Lac Bangles & Chura:
Artisans uses lac to make bangles and chura. They heat it to melt and mould it to stick it on a wooden cylindrical structure. This gives it a cylindrical shape. Artisans rotate hot lac slowly over hot coal & give a bangle shape.  Jaipur is believed to be the oldest city for crafting lac jewellery in India. Making lac bangles and Chura is a tedious process. Old techniques are used for its preparation and no machines are used.
India produces around 60 to 70 % of global lac production used in jewellery and accessories. Insects of lac found in branches of trees are long stickles. Lac is extracted, processed and finally cleaned to get a product known as "shellac". These shellacs are handmade by artisans to liven up with polished stones to get the outcome of beautiful bangles and chura out of it. Lac bangles generally have peacock designs and mirror work. Chura has in-depth floral designs, tiny beads to add shine and mirror work.
The Various Types & The Work on It:
There are various different types of lac bangles and chura available on-demand in the market. It takes around six to seven hours to make on average a dozen of bangles. Making time also depends on the type of material and decorative ways. Some bangles are simple, colourful while some have semi-polished stones or heavy pieces of mirror to make ornaments on a heavier side. Truly it is valuable as an art person and reflects the tradition of Rajasthan in the purity of the material used to prepare it.
Free Pro Tip: Another lac jewellery for arms is Khaanch ( खांच). It comes in pairs and wears on the upper arms.
Handmade zardosi work and a beautiful combination of colours make them beautiful to wear for festive times or occasions. Lac bangles and lac chura are more proficient for ladies of all age groups and one can gift them also. Their artwork makes love for India and a moment of pride to preserve the culture of our nation. Rajasthani women on average wear either three or five or seven bangles while chura is famous as 5 or 7 or 9 cut chura. Fashionable pairs of bangles or chura are minutely intricate by artisans to give a perfect look.
Living The Tradition:
Lac bangles and chura are always the best options to keep our tradition alive. Besides the change in time, women still love to flatter them with Rajasthani Poshak and sarees. According to elderly people it gives the power of communication and godliness. A Rajputi woman wears it as a keepsake and gives a mind meditative peace. In earlier times, having bangles and chura was like the intention of getting God's blessings and expressing love from devotees. Different regions are famous for different kinds of jewellery or bangles.
Exports:
Both bangles and chura clearly illustrate the traditional work of lac flourishing in India. Handmade bangles and chura from Jaipur brings international demand. Lac has medicinal value so has high demand from the United States.
Festive Jewellery:
A laminated bangle brings unique patterns and detailed designs. They are Indian artefacts that are rare and valuable material. Lac bangles and chura are an important part of the Rajputi Rajasthani family; it possesses to be luxurious accessories for them. They are legendary at the festive time of Teej and Gangaur during spring and monsoon to match up with Lahariya Dresses & Poshak.
Market Competition:
The lac bangles and lac chura of pink city Jaipur is most iconic Indian jewellery accessories having natural value and colour. It expresses ancient identity and now a day it has been mould to pass at upcoming generation. It's sale has declined even though most popular jewellery. Today's generation does not find it worth carrying forward its business. Competition with glass bangles that are trending and innovation of shopping malls keep a person away from the traditional market. This is another important reason that has diminished artisans motivation to give better design and quality of jewellery. Most artisans provide durability in a wide range of designs.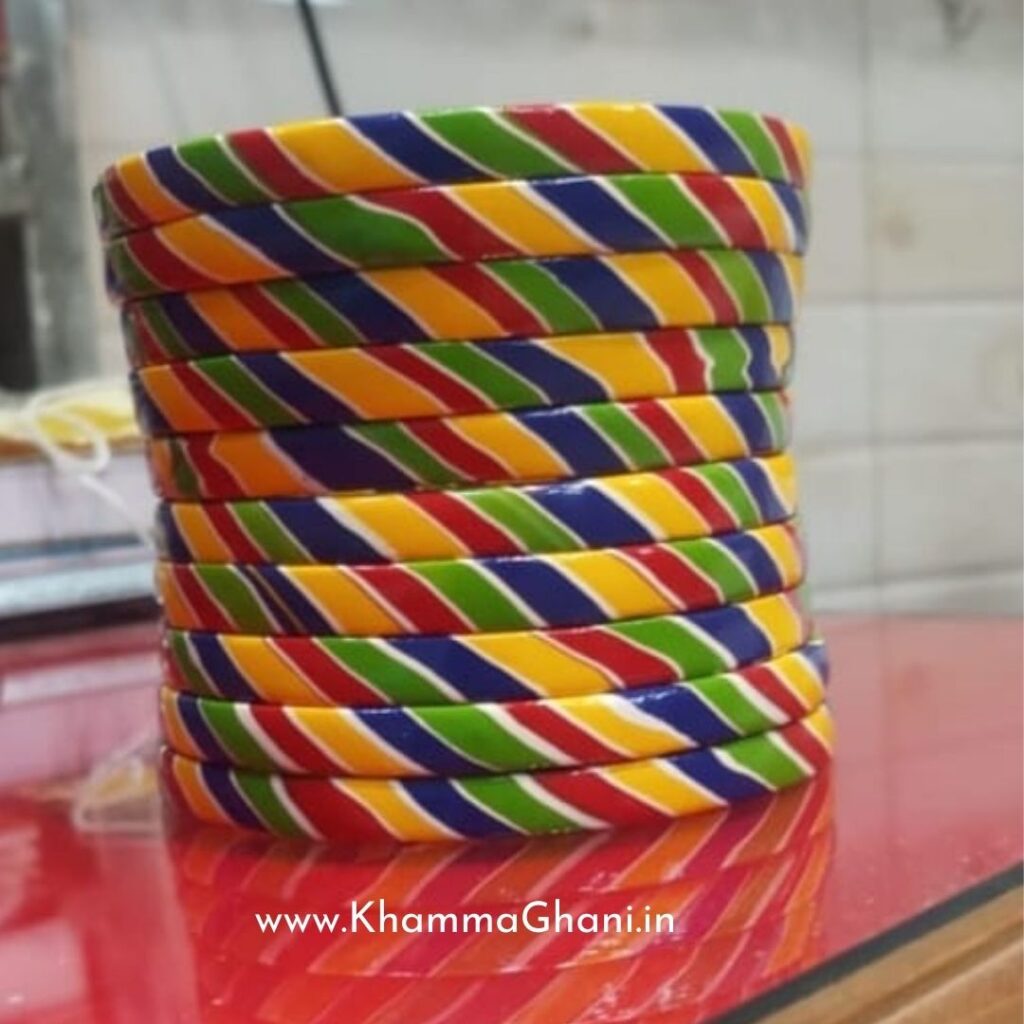 Supporting Communities:
Lac and cuff bangles are more famous in the northern states of India as they orginates from Rajasthan. People worldwide envy both bangles and chura best suited with exquisite texture and rich in style to go best with Indian or modern dress of women. Lac jewellery needs to grow up by expanding fashion trends over social media sites with beautiful fit pictures online . They look stunning and complement one's Rajasthani necklace and Poshak to complete a traditional getup. It supports rural communities by improving their livelihood. They made authentic pieces of bangles, chura and other accessories from craftsmen. Lac jewellery businesses are profitable as they have low cost of investment and use of organic products. Lac jewellery is an India based organization, dealing in producing natural jewellery and accessories. They are lightweight, flexible and scratch-free consequently more valuable these days.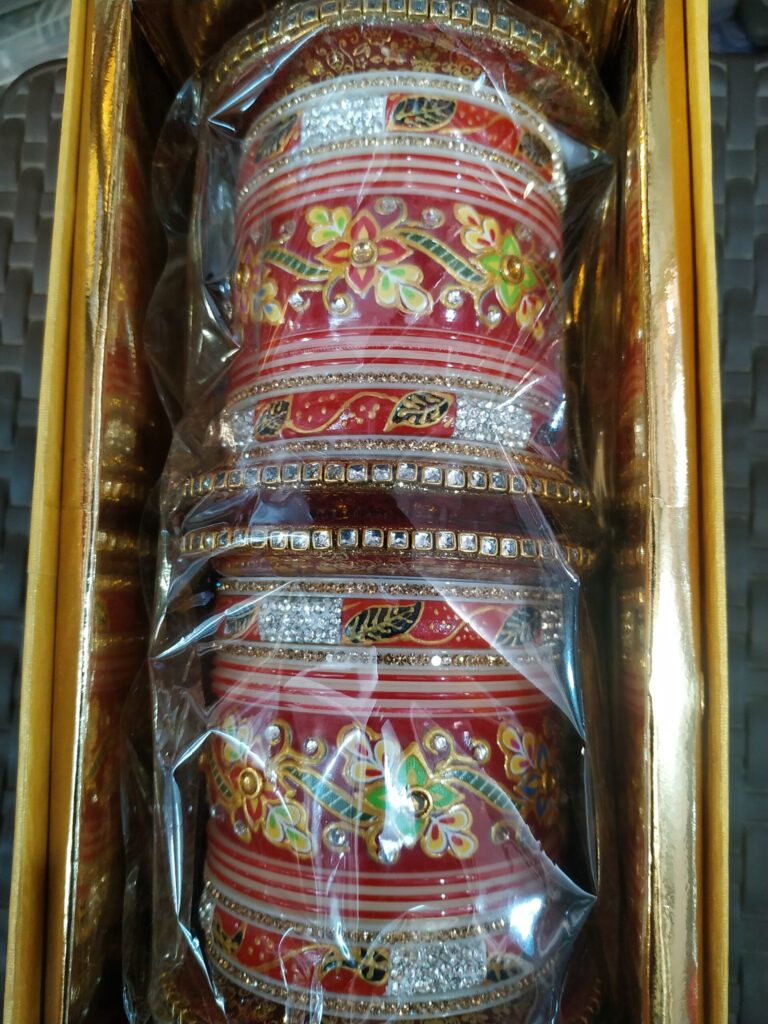 Believe:
The possession of it is the self-esteem of Rajputi women to add grace and elegance. It is a religious significance to ward off an evil eye by having lac bangles. Lac chura is a gift of good luck charm to the bride. It has a silver line complimenting the bride's outfit designed with vibrant colours. But modern women break conventional norms and think to celebrate individuality and wear it at their comfort zone. The lac bangles are in trend because they are wearable on a regular basis. Creative yet simple bangle and chura bracelets in our country flair up look by the inherited skill of artisans. They are wore together or single according to the dressing style to look attractive and impressive.
Both bangles and chura are precious and polished elements made from high-quality materials because of this it enhance individual beauty, radiate positive vibes and enrich well-being. After knowing the importance of lac bangles and chura, I am sure you would love to get your hands on high-quality lac bangles and lac chura.