"Punjabi bride jewellery makes a classic statement to make it prettier with the comeback of trendy jewel design."
In Indian wedding jewellery is the most integral part and so Punjabi bride jewellery has its own significance. Each jewellery carried by a Punjabi bride is designed in a unique way to give a special touch to wedding attire and overall appearance on a wedding day. Punjabi bridal jewellery is rich in design and style that are famed all over the world. With the passing of generations, jewellery of a Punjabi bride has been modernised with a fusion of classic culture. Indian bridal jewellery are rich in culture and have unique designs. When it comes to choosing everything about weddings in 2021 from mandap decoration, lehenga, hairstyle to accessories, trends are rising in a classy manner.
"These jewellery includes essential pieces to add better look"
Unlike every religion, Punjabi also has specific jewellery on wedding occasions to make the bride more stunning. To create a memorable day, a bride thinks to look perfect with a blend of tradition and dazzling jewellery to complete the look. Their jewellery usually has delicate work of shining diamonds and gorgeous pearls to enhance their beauty. Our Punjabi bride jewellery is handcrafted in India which can be worn either with salwar Kameez or lehenga to create an exquisite bridal statement. There are 10 varieties of jewellery a Punjabi bride carries that are elaborated in a below Para:
"From red bangles to royal chokers and other essential Punjabi bride jewelery creates uniqueness in their culture."
Maang Tikka /Matha Patti: Maang Tikka is placed on the bridal hairline with a pendant gracefully at the centre of the forehead. It is also known as a shorter version of shringar patti. These maang tikka or matha patti truly upgrade the look of a Punjabi bride. Maang tikka is a single pendant having a hook at the other end. Matha Patti on the other end is a little elaborate, having two chains on each side of the head. Both look elegant on a bride and one can choose according to their dress and face cut. It holds importance in our tradition to be a part of solah shringar that connects power, wisdom and blessings. It is a fashion statement in the fashion world not only for Indian women but across the globe. This traditional piece of ornament is available in kundan, pearl or gold to flaunt bridal beauty. One can also opt for wearing matha patti combined with borla- style Rajasthani Tikka.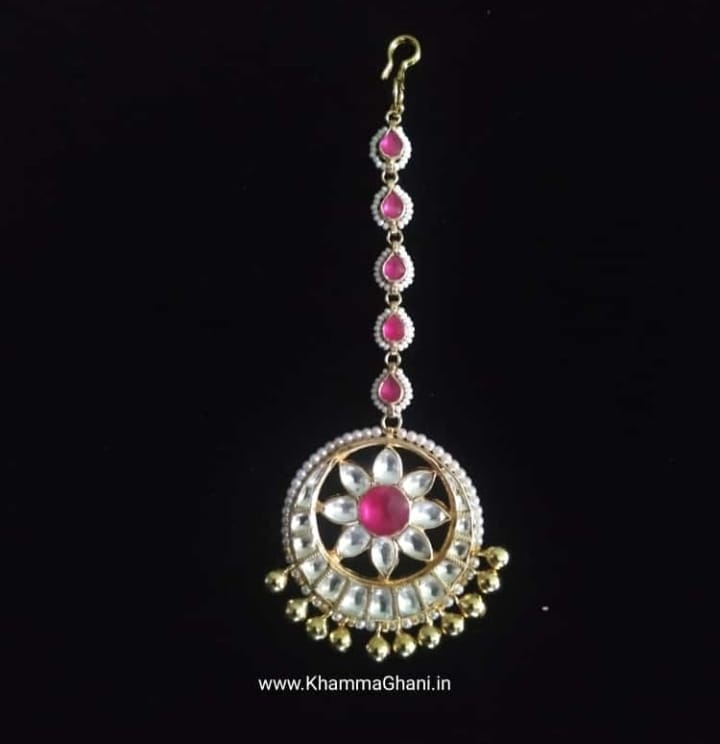 Chooda: Chooda are traditionally worn by Punjabi brides gifted by maternal uncle during Chooda ceremony. They are 21 bangles of white and red colour that are blessings and good luck wishes to newlyweds. It holds different importance and can be worn by the bride after Pooja with milk and rose petals.. Chooda are covered with white cloth on the wrist so that the bride cannot see till wedding ceremonies. It also symbolises that a girl is newly married and can be removed with rituals after at least 40 days of marriage. These Chooda ceremonies come from Punjab and are followed by both Hindu and Sikh. It is usually a sign of prosperity. It is always in addition to the bride to look more charming and graceful.
Kalire: They are either domed or an umbrella-shaped hanging that is earlier made up of dried coconut and dry fruits. It signifies good wishes to a bride and reminds close relatives and friends. This coconut-shaped Kalire represents that she will bring prosperity in the new home of in-laws. Modern Kalire are made up of metal and rhinestones attached to it. They are worn after the Chooda ceremony by family members. Once they are tied, there is a ritual to shake it on the head of unmarried girls and if they fall on their head, it is believed that they will get married soon.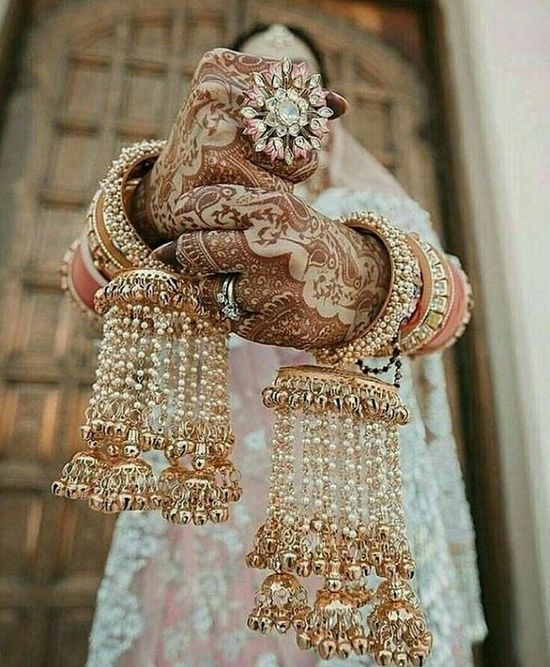 Haath Phool: Though it is named Haath Phool, this Punjabi jewellery is made out of flowers. It is multiple chains connected to bangles or bracelets with adjustable rings. It is stunning jewellery that stands out in a crowd at auspicious ceremonies like weddings, Mehndi and sangeet. It has been popular since the Mughal era to give an embellished look to hands. They will make the bride more elegant and richer.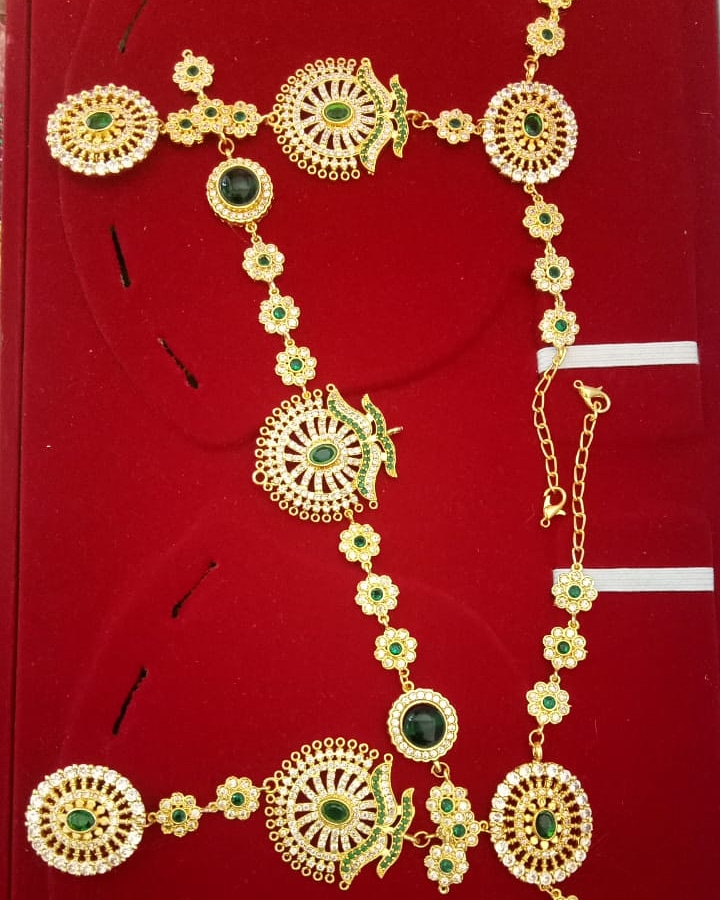 Choker: It is an essential ornament of Punjabi jewellery. One can pair it with a long necklace or a Rani Haar to make it look extravagant and more stylish. It came back in fashion and one can carry as per occasion or match up with an outfit. To carry a royal look, a Rani Haar is a best option and very popular in Punjabi Jewellery. It is evergreen, classy jewellery.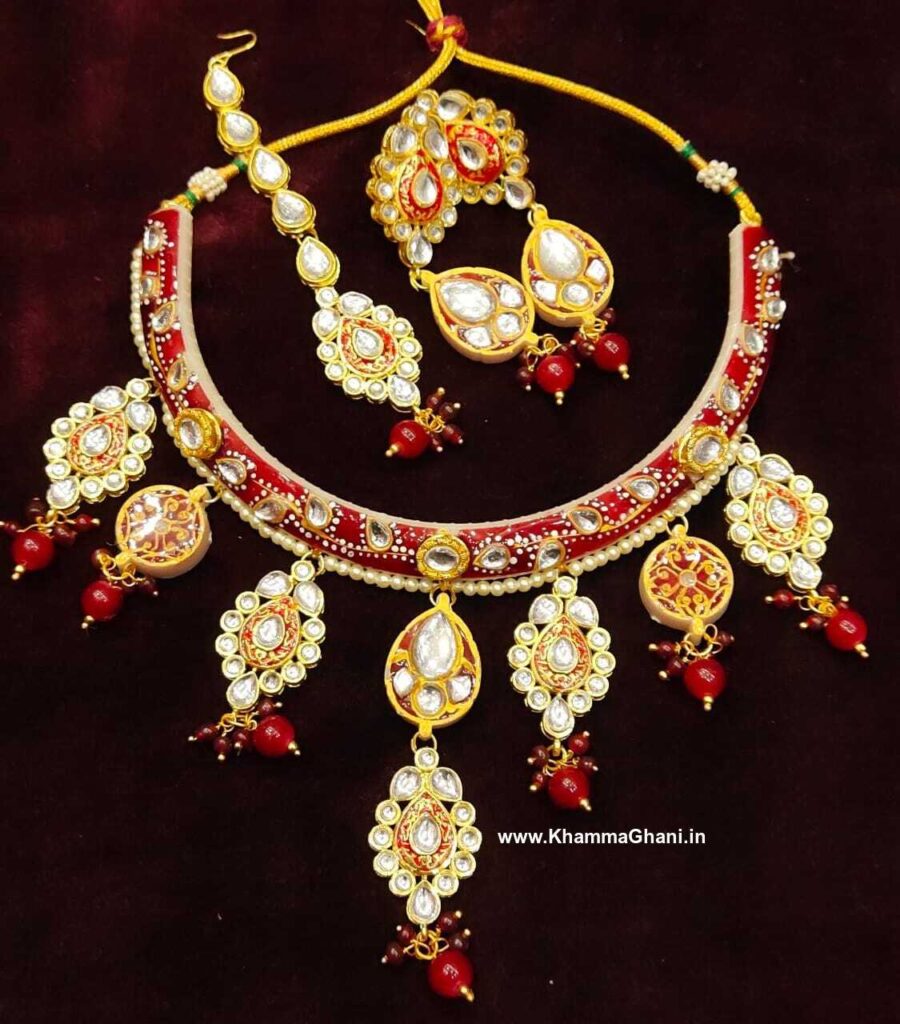 Bali: Earrings are one of the beautiful pieces of jewellery and the ethnic version is Bali. They can be hanging earrings or crescent or round in shape. It can be made up of either silver or gold or semi-precious stones. It has been modernised with time but the root of its essence remains the same. One can choose for chandbalis, a combination in the form of Jhumkas and hoop earrings. It will be a versatile piece of earring for a Punjabi bride and women across India.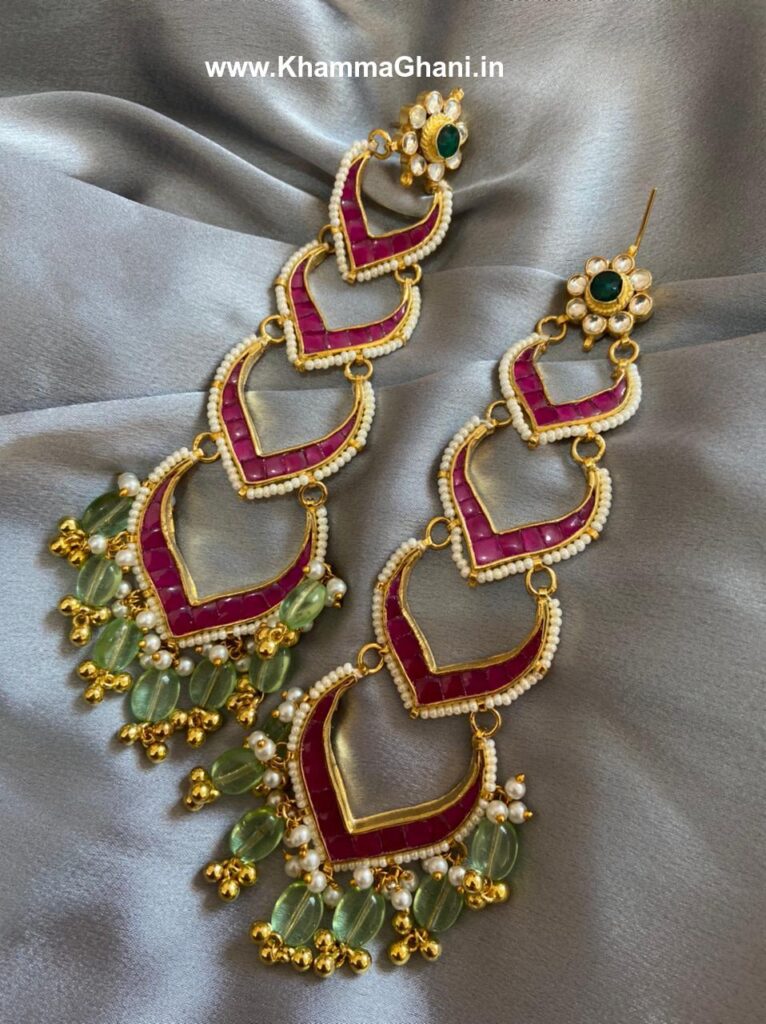 Kada /chudi: A bride look is incomplete without chudi or bangles. Kada or chudi are fascinating pieces of jewellery that sound sweet when knocked together. Kada are similar to chudi but look regal in different colours .Golden Kada are worn by Punjabi crafted for wedding day.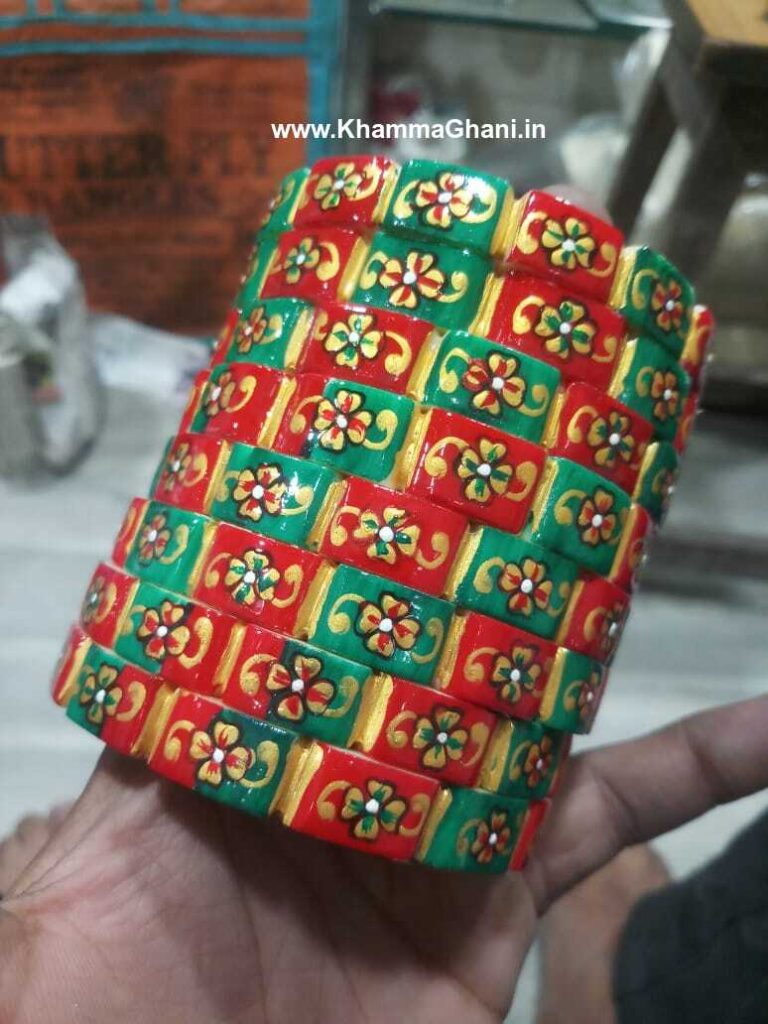 Angoothi (Ring): Ring itself has its own history that is beautifully crafted by the bride. They are made of gold, silver, platinum or other precious metal. This engagement ring is beautifully crafted for an Indian bride.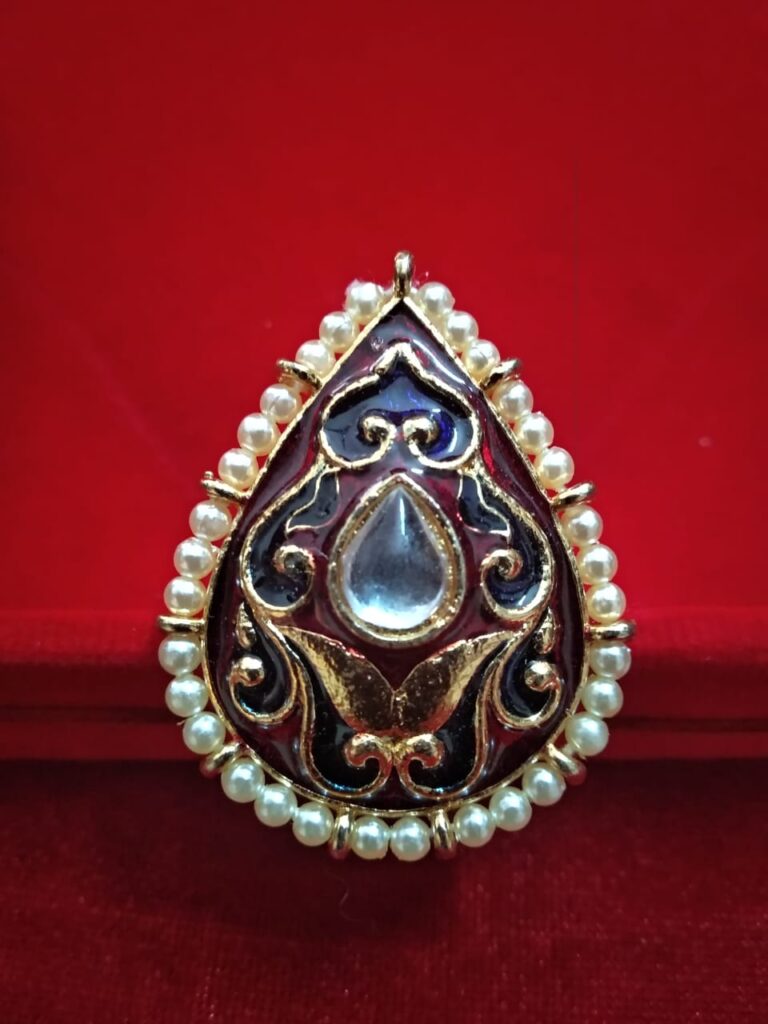 Pajeb: Pajeb are shimmering bells worn at anklets of legs that are not seen under the lehenga of a Punjabi bride. Yet it is a much likeable accessory for a bride to wear while getting ready for marriage.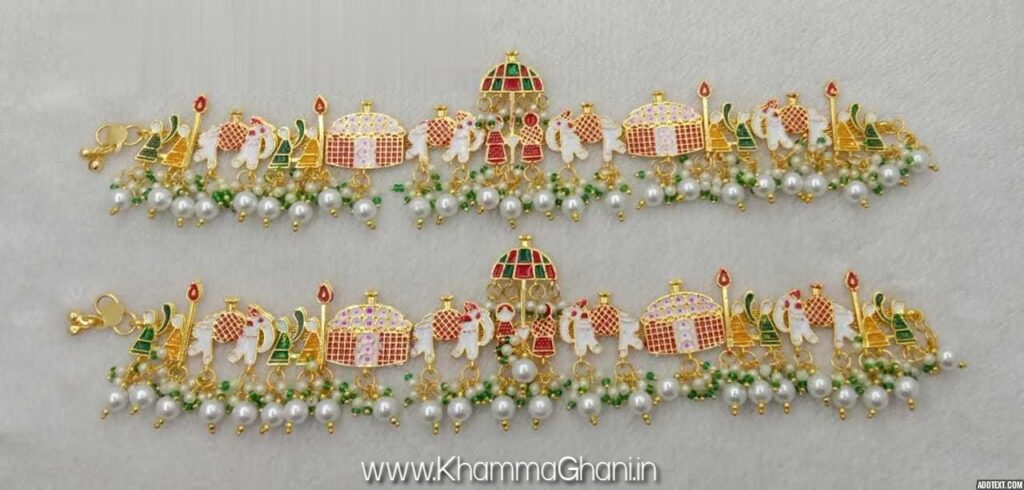 Nath /Laung: Generally there are two types of Nath. One shikarpuri Nath is a huge ring pendant attached with a chain while Laung is a stud that makes the bride more pretty. Recently designer nose pins are available in the market. Nath is usually heavy to carry while Laung is an elegant small piece that makes the face cut more gracious.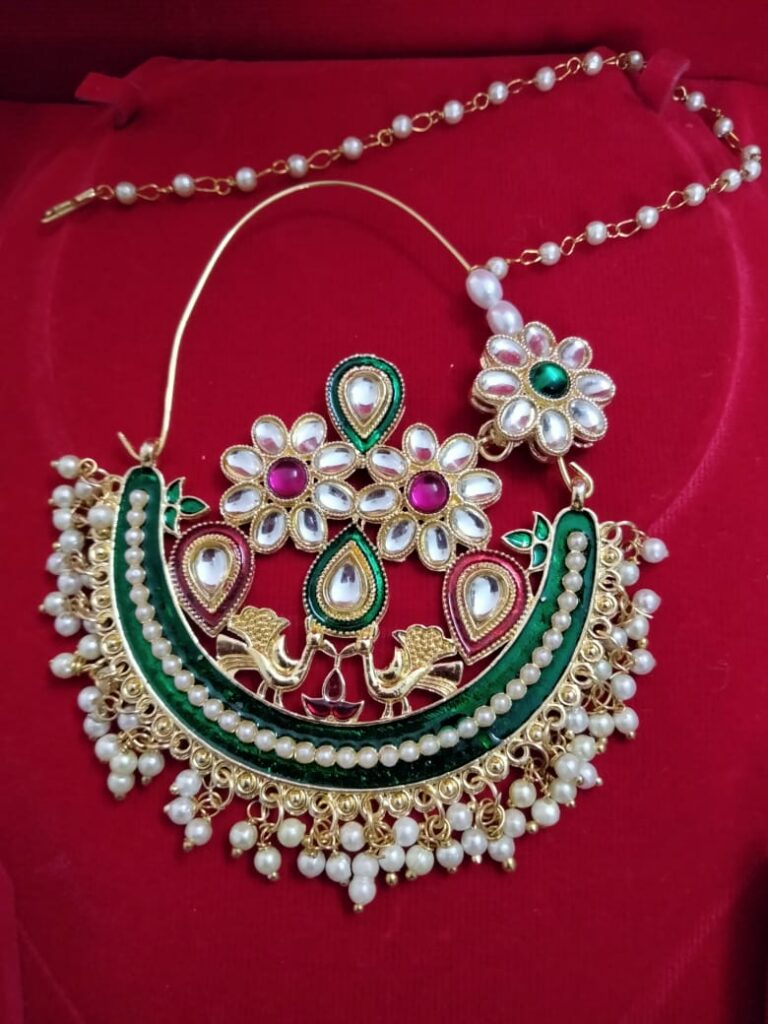 "One cannot see off eyes from huge Matha Patti, Chooda and classy Punjabi bride jewellery to get the perfect look with an outfit."
  Punjabi traditional jewellery have collections of bangles, Kada, necklaces, earrings and many other ornaments with extra-ordinary design and stylish across the globe. Punjabi traditional jewellery is handmade with affection and has become so popular recently due to the reflection of the nation's identity and our culture. Punjabi gold Kundan jewellery is precious gems having flawless designs and attractive finishing work pieces. They are the finest jewellery associated with tradition. Punjabi gold jewellery is gifted to the bride that brings fortune and prosperity in her new life.
Nowadays one can buy Punjabi traditional jewellery online by just a one click away. Every Punjabi bride looks stunning because of the jewellery combination with her attire. To look dazzling on your special day, one can opt to carry Punjabi jewellery to create magnificence around the crowd. The most fascinating thing about Punjabi culture is the high quality of ornaments and they carry traditions practiced since thousands of years. Their culture depicts beautiful attire and accessories across the world. Punjabi brides in a real sense create a fashion statement and style and embrace modern heritage now. From sangeet, Mehndi or marriage, a bride wears different ornaments to enhance the beauty. The preference for jewellery changes with upcoming new generations. Like now, brides wear earrings and Maang Tikka to make sure it goes with the lehenga and choose the best designs for it.
It is well said in India that Punjabi have a big heart to spend a lot of money during their wedding occasions and festive times. Also, they do not resist accepting changes and so they can show interest to buy all accessories online.
Punjabi jewellery is always grace and a perfect blend of jewel for a bride and every woman having a respect over the culture. A beautiful day is incomplete without it and it shows the impression of the authenticity of tradition. It is a precious jewellery and ease to carry and maintain with heavy outfit. Punjabi has different approach to celebrate each moment in our society. The mesmerizing colours of Punjabi bride jewellery make an unforgettable eye catchy fabulous look of a bride. It has gained fame in the market of fashion because of it antique material. It is a sign of beauty and pride for a family to fascinate legacy. Read our blog on Traditional Indian wear.