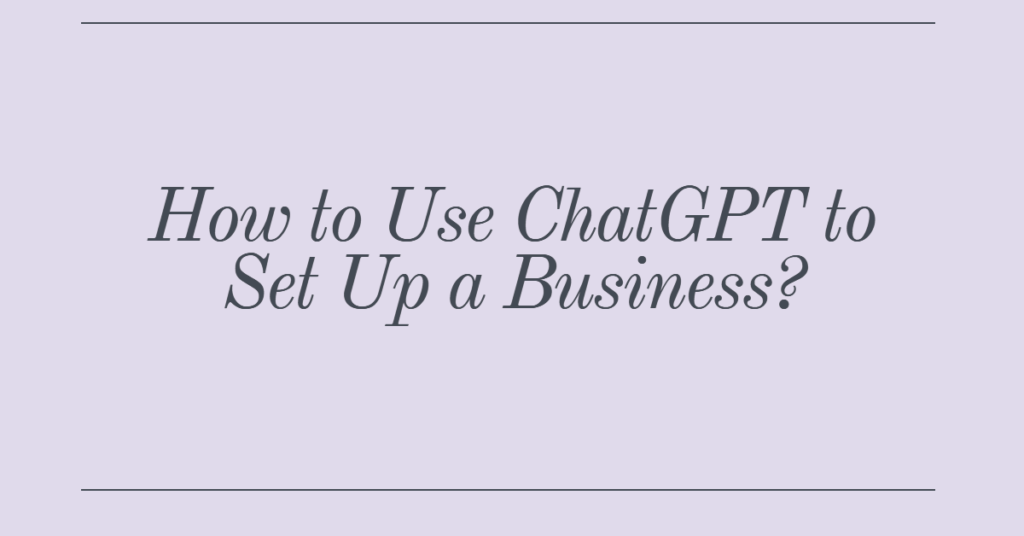 It takes a lot of time, effort, and money to get a company off the ground. One of the hardest components of launching a company is coming up with a good concept that will appeal to clients and create income. The good news is that ChatGPT, a massive language model developed by OpenAI, maybe a fantastic resource for budding business owners. From brainstorming product ideas to writing a business plan and spreading the word, this article will cover the many ways in which ChatGPT may be put to use when starting a company.
Introduction
ChatGPT is an AI application that may help with ideation, research, and other activities associated with setting up and maintaining a company. This AI model has natural language processing capabilities and may provide useful insights that will assist business owners in making sound choices.
Using ChatGPT to Brainstorm New Business Concepts
The first stage in starting up a company is to come up with a feasible concept. As it can process large volumes of data and come up with novel concepts depending on user input, ChatGPT may be a very useful tool for idea generation. ChatGPT allows you to build a list of prospective business ideas based on a set of keywords linked to your sector.
Performing Market Analysis
After you have some potential product or service ideas, you need to check the market to see whether there is any interest. Customers' demographics, purchasing patterns, and preferences may all be gleaned using ChatGPT. ChatGPT may also be used to research market tendencies and spy on the competition.
Developing a Strategic Approach
A business plan serves as a guide for an organization, including its objectives, methods, and financial forecasts. ChatGPT offers industry-specific business plan templates and examples to help you get started. ChatGPT may also be used to do scenario analysis on your financial data and generate forecasts.
How to Get a Business Loan
ChatGPT can help you find financing options including grants, loans, and crowdfunding for your company startup. To help you better manage your money and increase your cash flow, ChatGPT can evaluate your financial data and provide you with advice.
Building a Legitimate Foundation
Your company's taxes, responsibilities, and management structure will all be affected by the legal form you choose. ChatGPT can explain the differences between the various business forms, such as sole proprietorship, partnership, limited liability company (LLC), and corporation, and the benefits and drawbacks of each.
Getting Your Company Registered
Establishing a legal presence for your company requires registration with the appropriate authorities. ChatGPT can help you understand the regulations specific to your business and area as well as walk you through the registration procedure.
Creating a Name for Your Company and Promoting It
The success of every company depends on its ability to attract clients and sell its products or services. Depending on your business's sector and target audience, ChatGPT will recommend certain marketing channels and assist you in developing a brand identity.
Creating a New Item or Service
Creating a product or service that fills a demand in the market and sets you apart from competitors is essential to the growth and survival of your company. ChatGPT can help you uncover client pain areas and build solutions that meet those requirements. ChatGPT may also be used to collect and examine consumer comments, allowing you to better your offerings based on what they have to say.
Keeping Your Money in Order
The longevity of your company depends on how well you handle its money. ChatGPT can aid in building a financial plan, monitoring your cash flow, and evaluating your financial data to make educated choices. ChatGPT may also be used to spot business possibilities and threats.
Conclusion
In sum, ChatGPT may be a helpful resource for new and seasoned company owners alike. ChatGPT can help you at every stage of starting a company, from brainstorming ideas to designing a product or service to writing a business plan to promote your venture. Keep in mind that ChatGPT is just an AI tool; it's not meant to take the place of human knowledge and judgment. You should never utilize the material that was created by ChatGPT directly on your website. Use an AI content detector tool that detects artificial intelligence material to determine whether or not the information was created by humans.