Rajasthan the 'land of kings' state, which is known for the colorful fairs, festivals, Food, and wide variety of apparel had made an immense impact all over the world. The traditional attire of Rajasthan reflects the culture that has persisted since ancient times. The people in Rajasthan still hold onto the traditional attire of the Rajasthani lifestyle and culture.
We explore the diverse colors of the traditional races of Rajasthani men and women.
Traditional Attire of Rajasthan for Women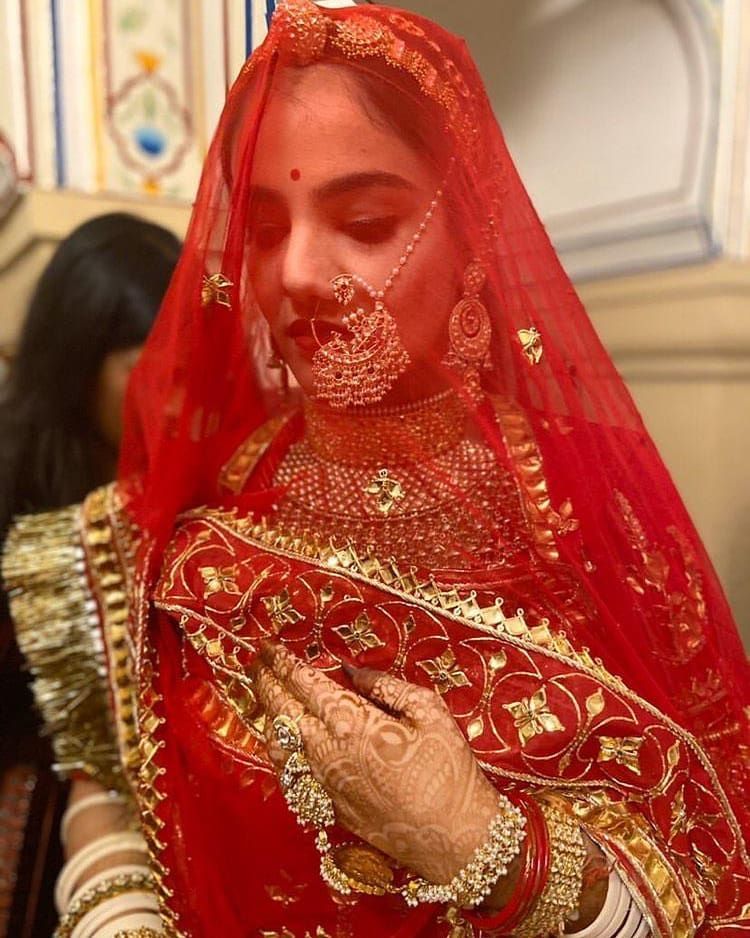 Traditional attire for Rajasthani women is Ghaghra, choli ( also known as kaanchli and Kurti )
and odhni ( veil ). The Ghaghra is a full-length embroidered and pleated skirt that comes
in a variety of colors, prints, and fabrics, such as silk, cotton, georgette, satin and crepe.
Traditional attire of Rajasthan also includes the odhni or chunar it is a long piece of cloth i.e
approximately 2.5 meters in length and 1.5 meter in width and is worn as a veil for covering
the head beautifully. The odhni is made of light prints, patched and tye-dyed fabric, it
features beautiful embroidery thread work, beadwork, or other ornamentations like lace or
gota, Styles of wearing odhni vary among different communities but the most common
way of wearing odhni is tucking one side of odhni inside the ghaghra resting the middle
the portion in the backside and draping the ending of one embroidered corner of odhni on the
chest, the middle portion of odhni from the back covers the head gracefully.
Accessories and Footwear for Women
Traditional attire of Rajasthani women looks so royal in their attire which is complimented
beautifully by accessories like Jhumka, Chura (bangles), Rakhri (maang tika), Sheeshphool
(headband) Timaniya ,Aad , Jadau and choker necklace, Bajuband, Poonchi (wrist band)
,bichhiya and payal become famous accessories that enhance the effect of ethnic clothing.
Jutis or mojris are mainly worn in footwear in Rajasthani traditional dress. Jutis or mojri are
made up of cloth, synthetic leather, or leather of sheep, camels, or goat. These jutis or
mojri are very good beautifully embroidered and other embellishments are also applied to them
which enhances the beauty of jutis or mojri.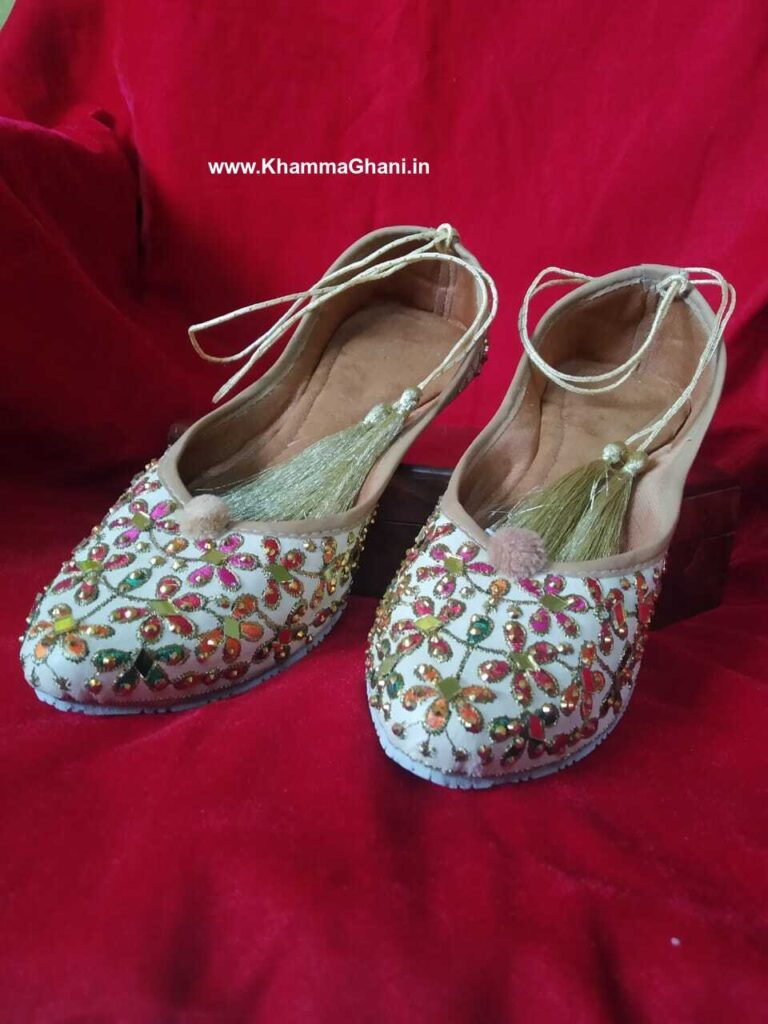 Traditional Attire of Rajasthan for Men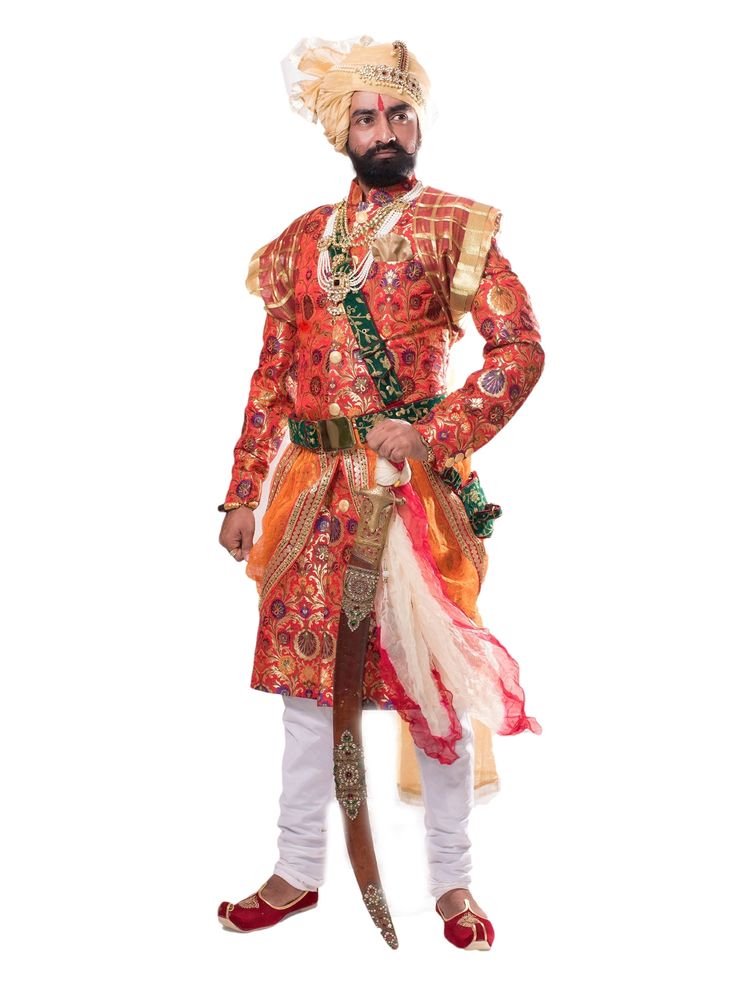 • Turban ( paag, safa , pagri) is a long piece of cloth tied around the head, which seems
very attractive. It is one of the most important parts of men's attire in the royal
state as it symbolizes the pride and honor of Rajasthanis.
• Dhoti is the traditional attire of Rajasthan worn as lower with kurta and angrakha .
Dhoti is a long piece of cloth tied around the waist and wrapped around the hips and
thighs .pajama is a loose trouser designed in different fabrics like cotton and silk
.people in Rajasthan wear mostly white color dhoti or pajama.
• Angrakha the word itself means something that protects your body. It is a type of
robe with an inner panel that covers the chest. The royals wear ankle-length flared
angrakha, while the commoner or the other communities wear shorter versions tied
with laces, not with buttons. It is made up of different fabrics like cotton and silk.
• Bandhgala is a traditional attire of Rajasthan for men, it is similar to blazers which
is made of rich fabric which makes bandhgala suitable for special occasions or
events it is paired with dhotis and kurta.
Accessories and Footwear for Men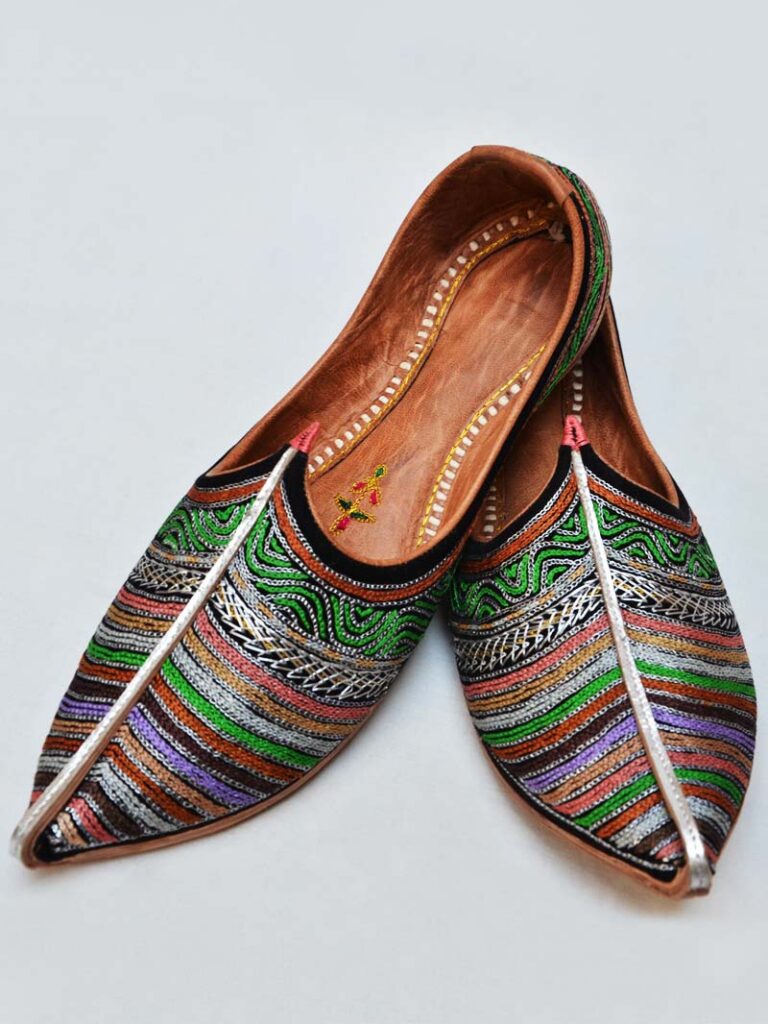 Men wear gold and silver stud on their earlobes, gold and pearl chains are preferred by rich
while silver hansli (big round bracelet ) is worn by common people.
Men in Rajasthan wear juti, they are leather shoes made up of sheep, camels, and goat
skin. It is usually black and brown, it can be paired with any kind of attire whether its
wedding or casual wear.
Our Twitter id: Twitter