Durga Puja is a symbol of woman power. According to the Hindu Panchang ( calendar) it is celebrated from Ashwin Shukla Shashti to Ashwin Shukla Dashami. According to Sanatan Dharma, Navratri Puja is mainly celebrated twice a year a Gupt Navratri (गुप्त नवरात्रि) is celebrated in the month of Ashadha. In this month the Hindu New Year is celebrated on the tenth day and Ram Navami is celebrated on the date of Navami in Gupt Navratri. Thus Gupt Navratri is also celebrated with pomp all over India. According to the Ved and Puran ( वेद और पुराण), it is believed that Maa Durga comes to earth during these 9 days because she is the consort of Lord Shiva. Goddess Durga was born on earth at the palace of King Himalaya, her mother's name was Mainavati. It is believed that during Navratri Devi comes to Mount Kailash, that is, from her in-laws' house to her parent's house (earth). In many states of India such as Bihar, Uttar Pradesh, Himachal Pradesh, and Bengal she is worshiped like a daughter and hence Goddess Gauri is worshiped along with her son, Lord Ganesha and Lord Kartikey. In Bengal, she is worshipped mainly accompanied by Goddess Saraswati & Goddess Lakshmi.
To Read The Blog in Hindi, Click The Button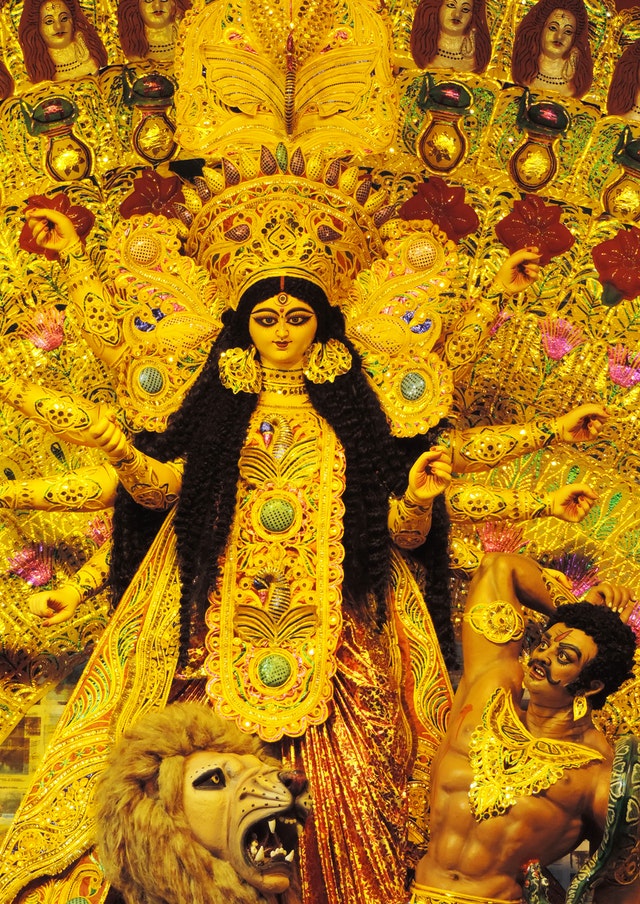 According to religious belief, the second story is that when the tyranny of a demon named Mahishasur started increasing on the earth, Maa Parvati assumed her fierce form which was named Goddess Durga. In totality, Goddess Durga has 108 names as per the Ved and Puran. To kill Mahishasura, Goddess Durga riding on a lion wore different weapons in her hands after which she killed the demon, hence Durga Puja is considered a symbol of power and womanhood.
When atrocities on women increase then the woman who is the mother, whose importance is an example in the whole world, then by taking the form of Durga, the same woman also possesses the ability to put an end to that evil person, that is why Durga Puja is like worshipping the power of womanhood. In the Ved and Puran it is said that "यत्र नार्यस्तु पूज्यन्ते रमन्ते तत्र देवताः" means that where women are worshipped, the deities are believed to reside.
The Nine Forms of Goddess Durga:-
Nine forms of Goddess are worshiped in Navratri Puja Festival, it is believed that Mother Durga had taken these nine forms. Here are the nine forms of Durga Maa –
Shailputri – The first form of Devi Durga is Shailputri, Shail means Himalaya. She is called Shailputri because she was born at home on a kind of Mountain called King Himavat. She rides Taurush and she holds a trident in her right hand & a lotus in her left hand. She is pleased when worshipped with yellow flowers.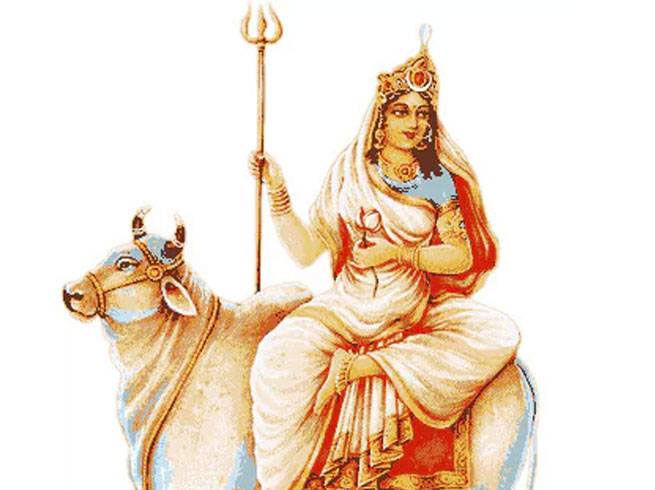 Brahmacharini – Maa Brahmacharini has a garland in her right hand and a kamandal in her left hand. She had pleased Lord Shiva by doing penance for thousands of years, hence she is also known as Tapascharini i.e. Brahmacharini.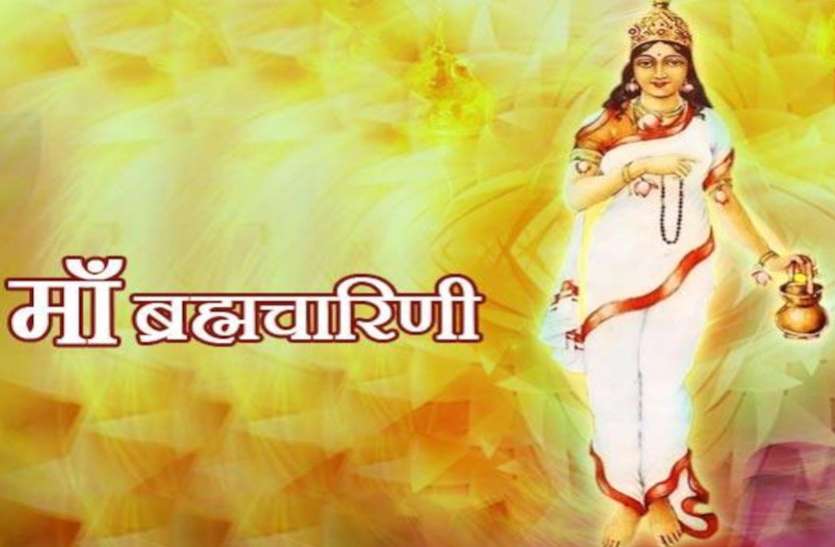 Chandraghanta: On the third day of Durga Puja, Chandraghanta Mata is worshipped. The bell ( ghanta) shaped half-moon beautifies her forehead hence her name Chandraghanta. The 10 hands of the goddess are equipped with all the weapons. She is worshipped to attain peace in life.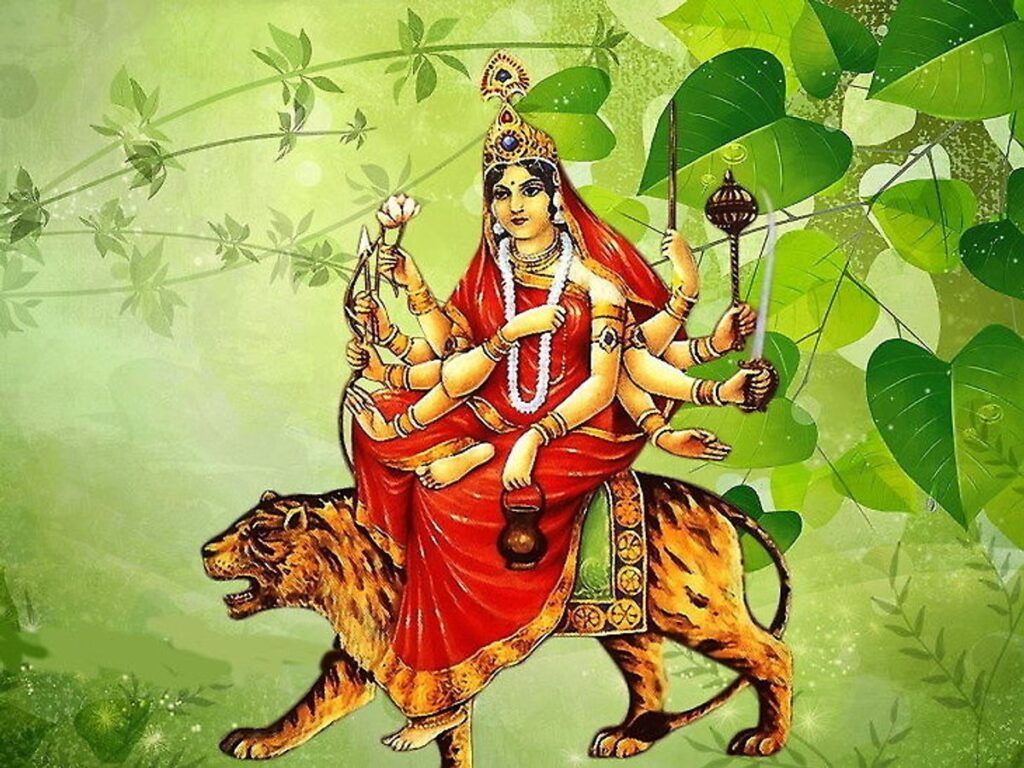 Kushmanda: The fourth form of mother is Kushmanda, it is mentioned in the Puranas that when there was darkness all around before the origin of this world, Mother Durga had created the universe, that is why she is called Kushmanda. She has eight arms and rides a lion. The goddess is accompanied by chakra, kamandal, mace, bow, lotus, kalash, arrow in her hands.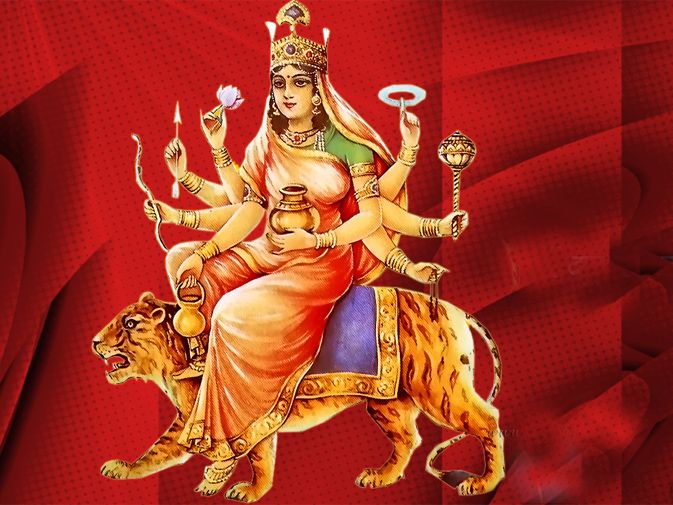 Skandmata: Goddess Skandamata is worshiped on the fifth day of Navratri, being the mother of Lord Skanda i.e. Kartikeya, she is called Skandmata. She sits on a lion & believed to be the presiding deity of the solar system. She bears a supernatural aura of the sun around her like a circle of the sun.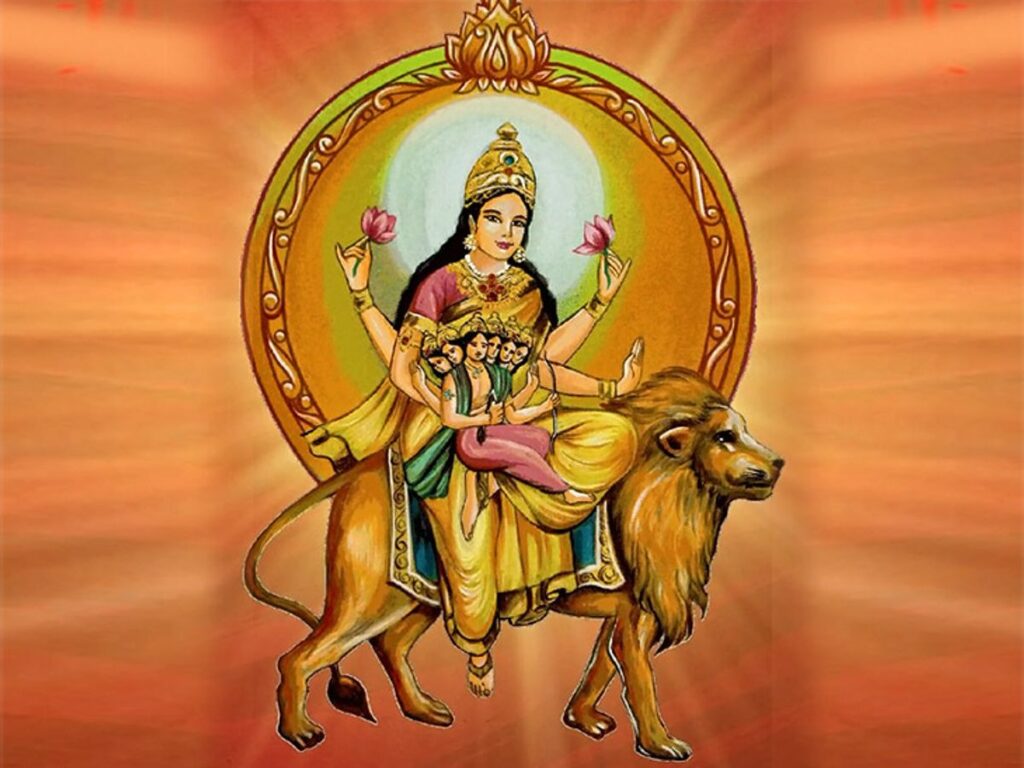 Katyayani: Mother Katyayani is worshiped on the sixth day of Navratra, she was born as a daughter to Maharishi Katyayan, hence she is called Katyayani.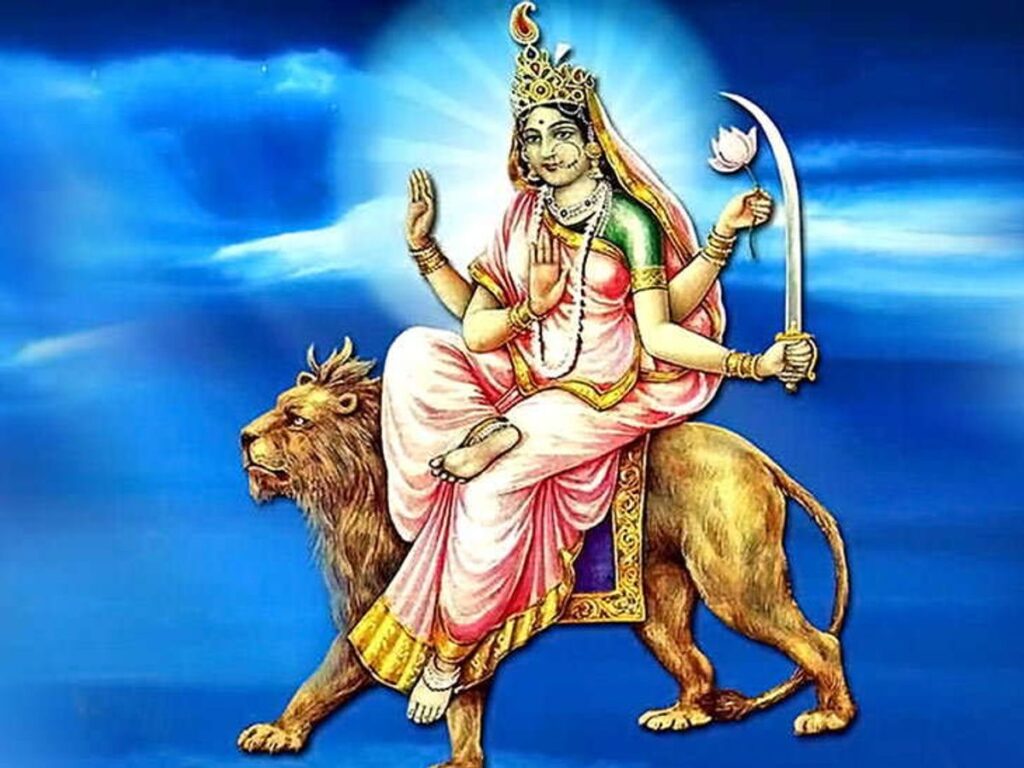 Kalratri: Goddess Kalratri is worshiped on the seventh day of Navratri. She has dark complexion and is the destroyer of demonic powers. She has three eyes & four hands with a hooked vajra and a curved sword. She sits on the donkey.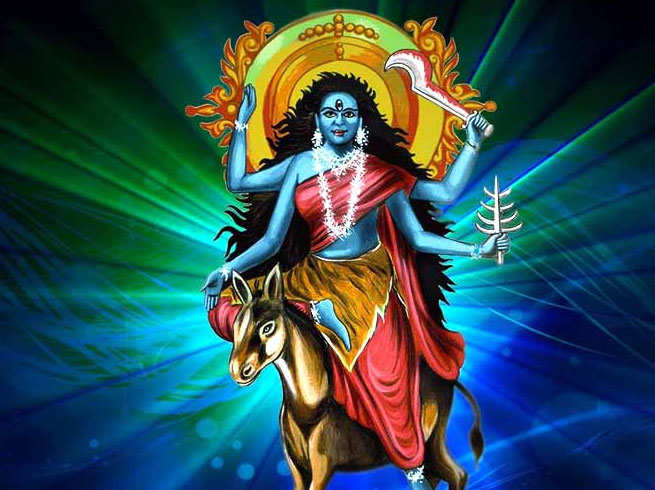 Mahagauri: Goddess Mahagauri is worshiped on Maha Ashtami, her complexion is white, and she also wears white clothes. Her vehicle is a bull. While she was meditating for thousands of years to get Mahadev as her husband she turned dark, however later Lord Shiva was pleased with her devotion and blessed her to regain her white complexion and beauty, and she came to be known by the name Mahagauri, which means "extremely fair". Maa Gauri loves the fruit of coconut very much & it's said she can be easily pleased by offering one. Ma Gauri can also pleased by offering eight types of fruits.
Siddhidatri: Ma Siddhidatri is worshiped on the ninth day of Navratri. She is the goddess who gives all kinds of accomplishments, hence she is called Siddhidatri. In the Vedas Puranas, there are eight siddhis named Anima, Mahima, Garima, Laghima, Prakamya, Ishitva, and Vashitva. Siddhis are attained by the grace of Maa Siddhidatri, she is very fond of halwa puri, and black gram vegetables and one can please her by offering them.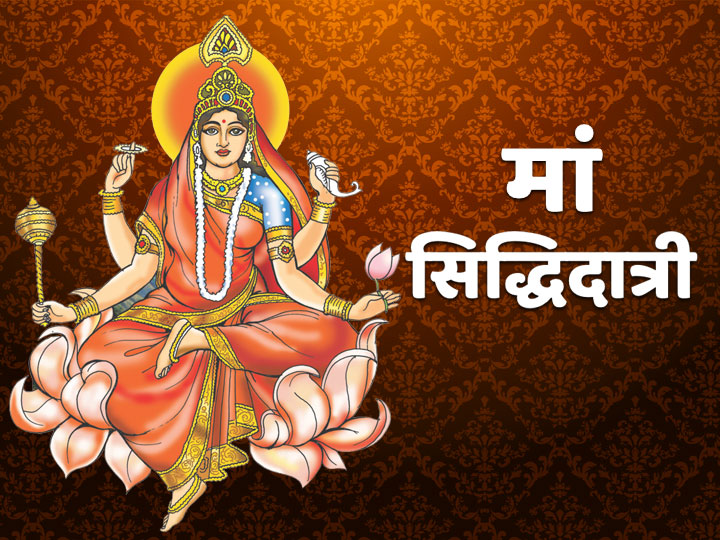 Durga Puja Festival of Different States
Bengal: The main festival of Bengal is Durga Puja, here Durga Puja begins with Mahalaya – a kind of prayer. This prayer is to invite Goddess Durga to one's home during Durga Puja. It is believed that every idol artist in Bengal makes eyes of Durga idol on this day. The method of making idols in Bengal is also different from the whole of India. Here, the soil that is used to make the idol of the Maa Durga is mixed with the soil of the courtyard of the vaishya (prostitute) house. It is offered to Durga so that those who have committed mistakes, may be freed from their sins.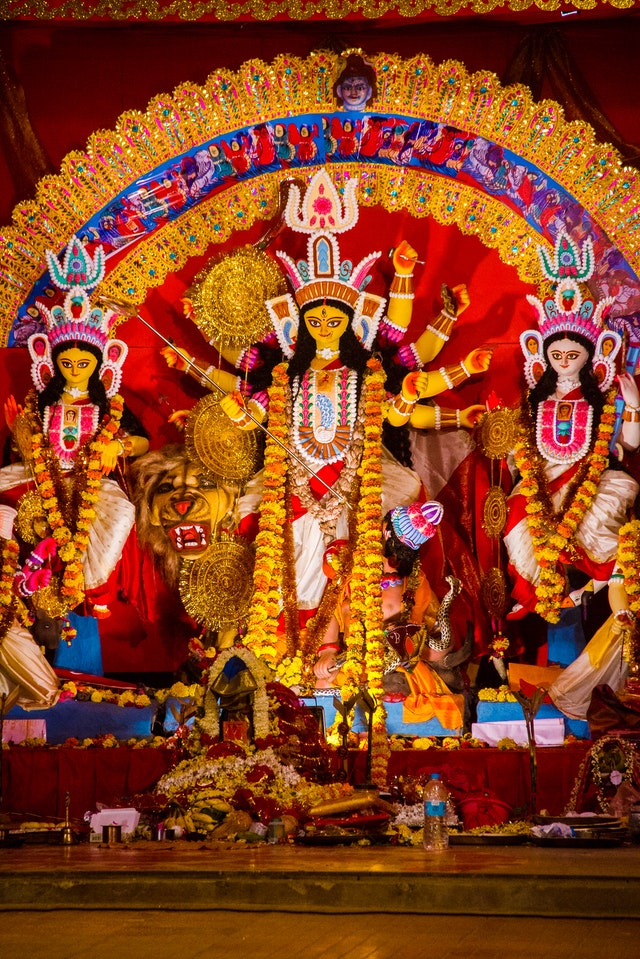 In Bengal, the last 3 days of the Durga Puja – Mahasaptami, Mahaashtami, and Mahanavami are considered main. Sandhi Puja is performed on Mahashtami, it is considered the main worship of Durga Puja. It is said that a person who does not worship during Navratri due to any reason can get the full fruit of Durga Puja by performing Sandhi Puja. Sandhi Puja's time duration is fixed. The time interval of Sandhi Puja in 2023 is from 7:34 pm to 8:22 pm because Ashtami Tithi will start at 9:53 pm, 21 October 2023 and Ashtami Tithi Samvat will be 7:58 pm, 22 October 2023. The same time period will be between 7:34 pm to 8:22 pm. It is believed that during this time period, Maa Durga is in the idol. Kumari Puja is performed on Ashtami Puja in which little girls are decorated and worshiped like Maa Durga. Maha Aarti is performed in the evening on Navami and the next day vermilion is played in which married women apply vermilion to each other and pray for the long life of their husbands. After that, the idol is immersed in the water. This is how Durga Puja is concluded.
Uttar Pradesh & Bihar: Durga Puja is celebrated with great joy in Bihar & Uttar Pradesh. The first puja on day one is also called Kalash Sthapana or Ghatasthapana. First, Ganga water is kept in the urn, in a small swivel made of soil, Under the urn a caly pot is placed with soil and barley seeds in it. It is considered a good sign for these seeds to grow and become green. Coconut is placed on top of the Kalash, it is decorated with mango or Ashoka leaves. In this way the installation is done. In UP & Bihar, Maa Durga is worshipped for the initial 6 days and her face is seen from Saptami i.e. the 7th day.On the day of immersion, in Bihar, the mother goddess is sent off like a daughter with some good omen items like red clothes tied to her waist. In this way the Durga Puja festival is concluded.
Gujarat / Rajasthan: In Gujarat and Rajasthan, Durga Puja is addressed as Navratri Puja. Navratri is celebrated with great joy and gaiety in Gujarat, Garba Raas dance of Gujarat is famous all over the world. It won't be surprising if Garba is interchangeable with Gujarat. Here Garba is not just considered a dance, it is considered a means of enjoy and ecstasy. In Gujarat and Rajasthan, clay lamps are lit in house for 9 continuous days commonly called as akhand jyot. If we talk about Rajasthan, then the worship of the mother is done here after seeing the Muhurta time on the first day. Barley or wheat seeds are put in a clay pot along with soil to be grown for 9 days and they are worshipped. Many women stay awake all night in their homes and sing bhajans of Mata which is called as "Raati Joga" in Rajasthani language. In this way Navratri Puja is celebrated in different states India.
Different costumes of different states during Durga Puja:
The Indian culture is identified by various costumes and traditional ornaments as Indians wear different types of costumes on every festival. Special types of costumes are worn on Durga Puja like women in Bengal wear white and red sarees, they apply red aalata i.e. color in their hands and feet. Especially married women wear Shankha Pola in their hands which is made of ivory, along with red colored bangles. Tikuli is worn on the forehead and during Durga Puja "Dhunchi dance" is performed in which both men and women perform the Dhunchi dance together. A dance is performed in front of Maa Durga by burning incense in a mold made of clay. Talking about North India, all the people wear new clothes, women wear red green bangles of sari and glass.
In Gujarat, women wear Chaniya choli and Ghagra choli, waistband in jewellery, rakhdi, nath, bangles in their hands, they play garba by wearing lac bangles, lac strings. Garba dance is also played in many ways like group dance Garba, Garba in two pairs, Garba dance is performed with small pots in hands and colorful umbrellas. Dandiya dance is played with two dandiyas. Kafani kurta pajama, which is a type of Gujarati kurta, and a Gujrati turban is worn by men. In Rajasthan women wear Rajasthani dress in which Rajputi dress is famous, like Zari dress, Gota Patti dress & women play Garba. The most favorite jewelry of women is the armband commonly called as Bajuband and its accompanying loom, the pair is called Baju-loom. Women play dandiya wearing armlets and looms. In this way, Navratri is celebrated in different states.
Durga Puja: Food and Fashion –
Many people keep fast during Navratri to worship and please the ma Durga. There are different methods of fasting all over India, here are some common practices of fasting. Scientists have also proved that fasting has a good effect on our body, our digestive system is strong, our body's internal capacity is strengthened. Many people keep Navratri fasting for the entire 9 days, while some take food only once a day during these 9 days. Many people follow fasting by drinking only water. At many places like in the state of Bihar, people fast by eating a single basil leaf. In states like Rajasthan, Gujarat, people observe fast by doing Sahagar, in which they fast and eat Mirchi Bada which is a famous dish made from Sabudana, water chestnut flour. Even some section of people who eat garlic onion, non-vegetarian sacrifice their eating habits for these 9 days to please Maa Durga. In this way Navratri festival is celebrated in the entire country.
Image Credit: Bhaskar ABPlive NavBharat Times