In a recent YouTube release titled "Skin Secrets with Alia and Shaheen," Bollywood star Alia Bhatt, along with her sister, Shaheen Bhatt, unveiled their coveted Alia Bhatt skin care routine, offering a glimpse into their meticulously curated regime. The video delved into their individual skin types, concerns, and the significance of ingredient-focused products, highlighting the importance of nurturing the skin, our body's largest organ.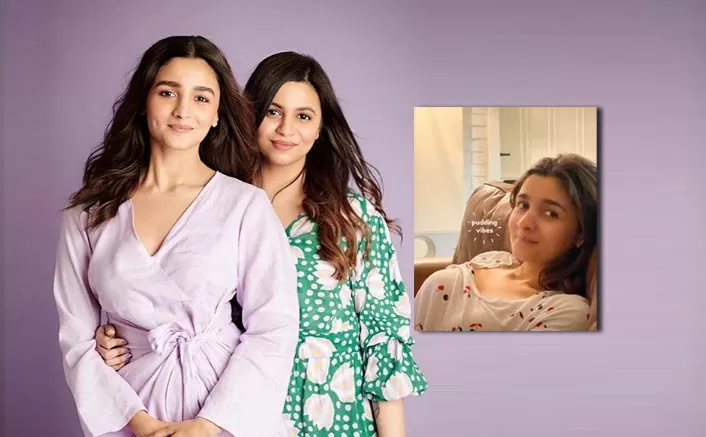 I. Understanding Alia Bhatt Skin Care Routine, Type and Skincare Goals
Acknowledging their distinct skin types, the duo disclosed Alia's combination skin type with an oily T-zone, contrasted by Shaheen's battle with dry skin and post-inflammatory hyperpigmentation from acne. They also emphasized their personal skincare aspirations, ranging from preventing acne and achieving a natural glow to incorporating self-care rituals and prioritizing long-term skin health.
II. Unveiling the Comprehensive Skincare Rituals of Alia and Shaheen Bhatt
Step 1 – Gentle Cleansing for Radiant Skin
The initial step in their skincare ritual entails the use of a mild cleanser that preserves the skin's natural oils. Alia opts for the Cetaphil Gentle Skin Cleanser, while Shaheen, with her dry skin, prefers skipping morning cleansing, instead relying on a thorough double cleanse during her evening routine.
Step 2 – Hydration and Balance with Toning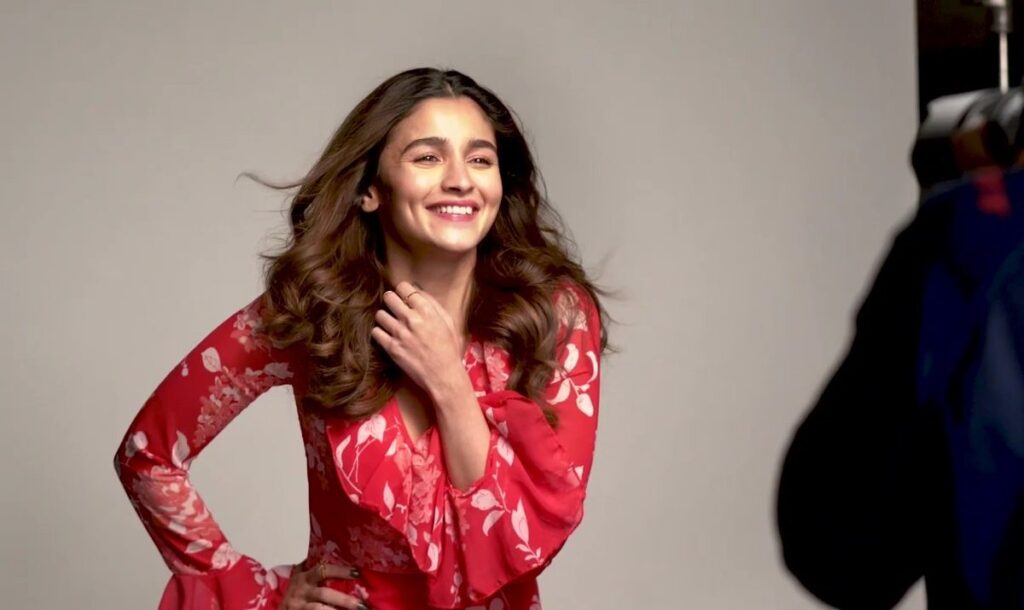 Alia incorporates a nourishing toning mist, like the Byoma Balancing Face Mist, enriched with probiotics and a tri-ceramide complex, promoting balanced, radiant skin. Meanwhile, Shaheen emphasizes the significance of a hyaluronic serum for intense hydration, coupled with the benefits of a ceramide serum, utilizing the Glow Recipe Avocado Ceramide Recovery Serum for repairing and nourishing her sensitive skin.
Step 3 – Optimal Serum Application for Skin Vitality
The use of specialized serums takes center stage in their skincare regimen. Shaheen's preferred Skinceuticals Intensifer with various molecular sizes of hyaluronic acid draws moisture to her dry skin, while Alia opts for the Rhode Peptide Glazing Fluid, stimulating collagen production for supple, firm, and hydrated skin.
Step 4 – Nourishing Moisturization for Lasting Hydration
Both sisters stress the significance of tailored moisturization, selecting products suited to their specific skin needs. Alia chooses a lightweight option, favoring the D'You In My Defence moisturizer, while Shaheen relies on the A-Derma Epitheliate A.H. Ultra Soothing Repairing Cream, renowned for its gentle care and nourishing properties.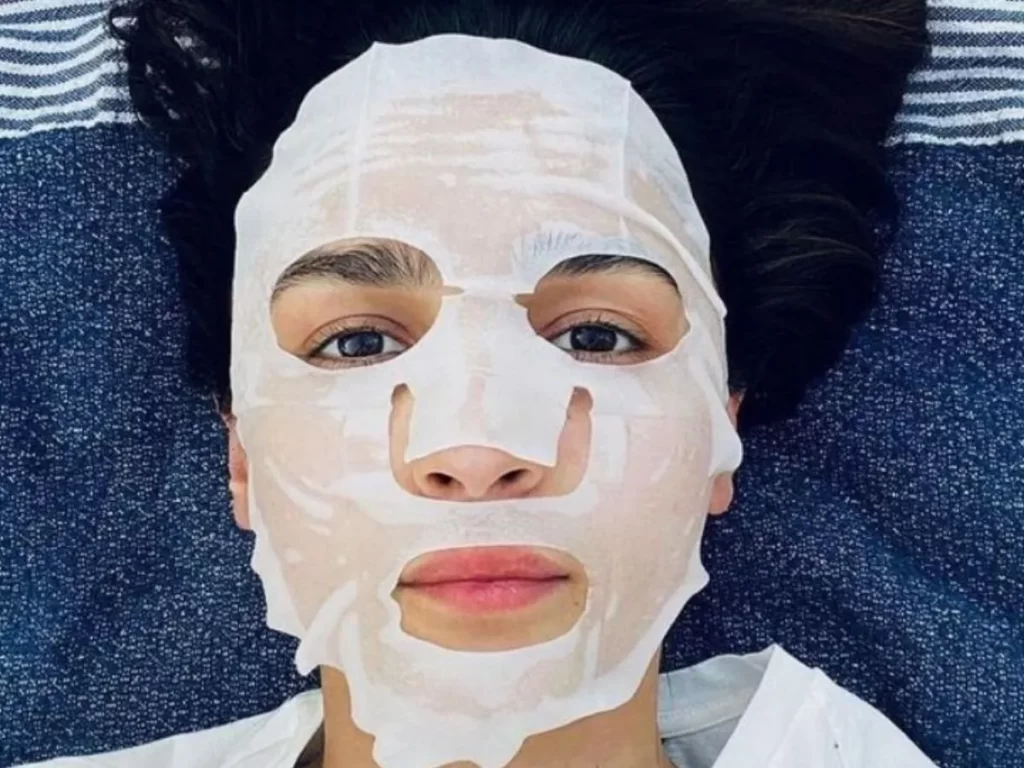 Step 5 – Shielding Against Sun Damage with SPF
A vital step in their routine involves the diligent application of sunscreen to safeguard their skin from sun damage and aging. Alia highlights the importance of generously applying sunscreen before makeup, with the sisters entrusting the Isdin Fotoprotector Fusion Water SPF 50 for effective protection without leaving a white residue.
Step 6 – Complete Care with Nourishing Lip Balm
For comprehensive skincare, Alia and Shaheen emphasize the importance of a nourishing lip balm. Alia's choice, the Rhode Peptide lip treatment, complements Shaheen's preference for the trusted Aquaphor Baby Healing Ointment, ensuring their lips receive the optimal care and nourishment they deserve.
By following a personalized Alia Bhatt skin care routine, tailored to address various skin concerns and goals, you can unlock the secrets to a radiant and healthy complexion.
III. Explore The Alia Bhatt Skin Care Secrets – 7 Must-Have Products for Glowing Skin
Unveil the secrets behind Alia Bhatt's radiant skin with her trusted skincare routine. Delve into her handpicked skincare products, curated to enhance your beauty regimen effortlessly.
Step 1: Mac Prep+ Prime Fix for a Smooth Skin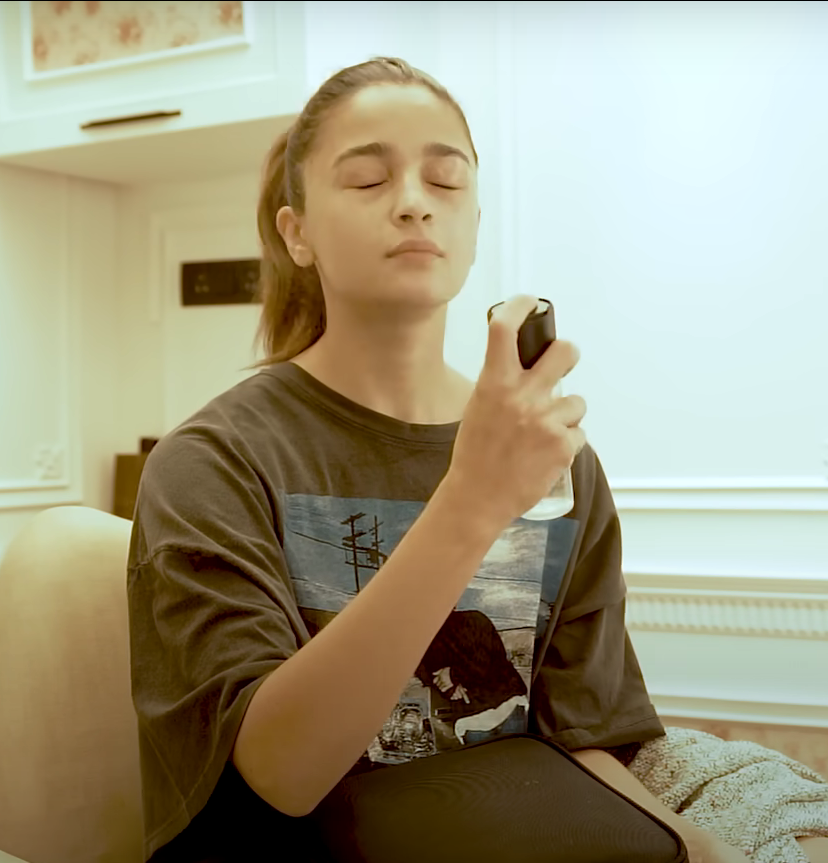 Elevate your skincare game with the renowned Mac Prep+ Prime Fix, an essential step before makeup application. Shop the authentic product from Mac's official website or Nykaa for ₹1900.
Step 2: House of Beauty 24k Face Massage – Alia's Go-To Face Massager
Combat water retention-induced puffiness with the House of Beauty 24k Face Massage tool, just like Alia does. This essential step is available for ₹2,100.
Step 3: Farmacy Beauty's DEW IT ALL TOTAL Eye Cream – Alia's Eye Care Essential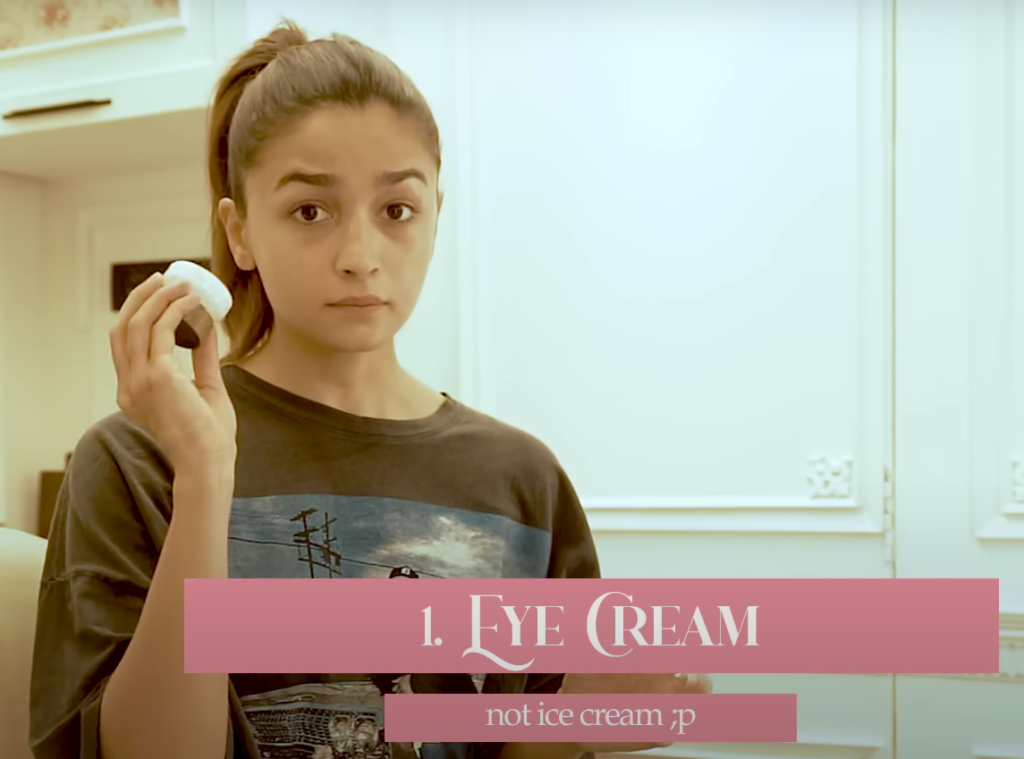 Revitalize your under-eye area with Farmacy Beauty's DEW IT ALL TOTAL Eye Cream, the same one trusted by Alia Bhatt, for $32 (₹2,383).
Step 4: Glow Recipe Niacinamide Dew Drops – Alia's Favorite Glow Booster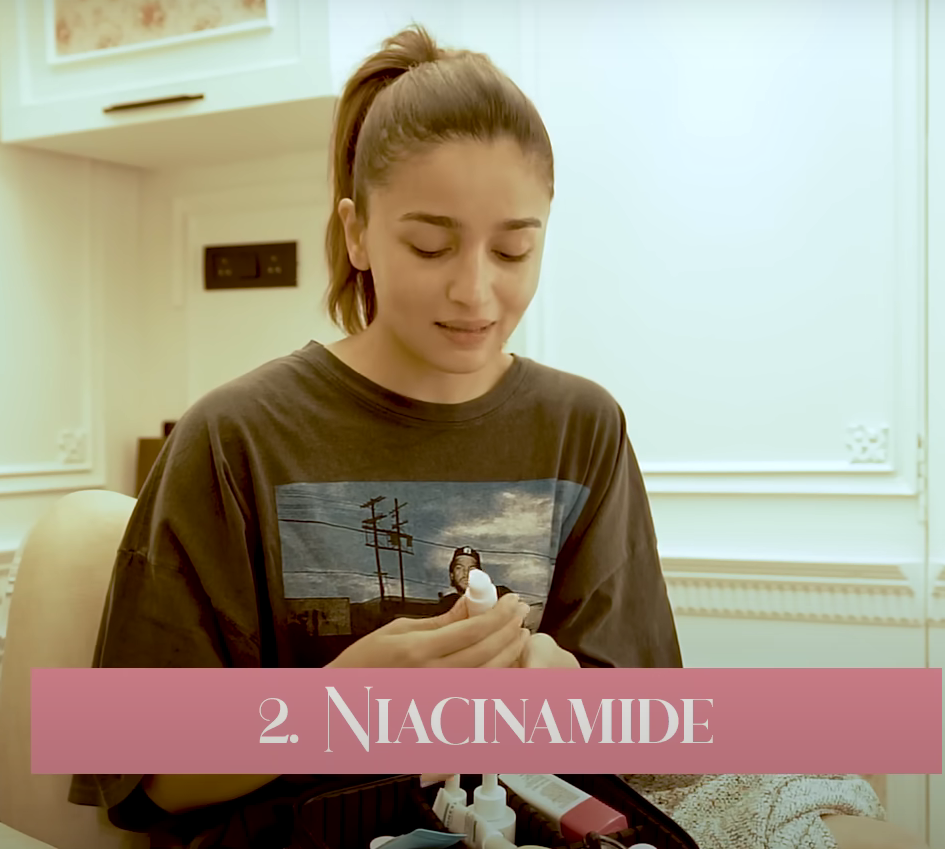 Experience the transformative power of Glow Recipe's Watermelon Glow Niacinamide Dew Drops, cherished by Alia herself, for $34 (₹2,531).
Step 5: The Ordinary's Caffeine Solution 5% + EGCG – Combat Puffiness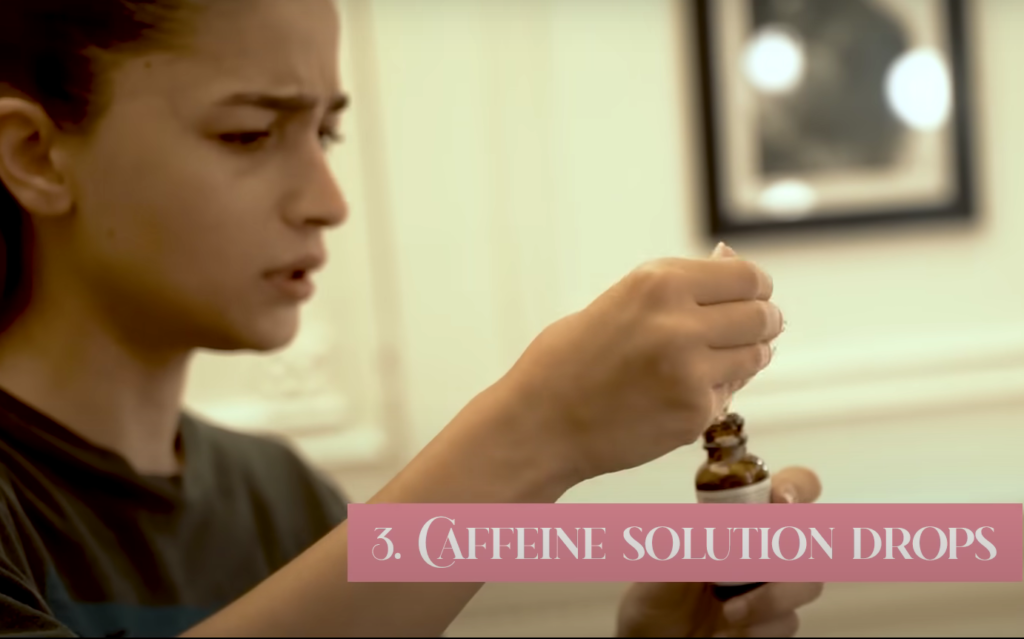 Consider the optional yet effective Caffeine Solution 5% + EGCG from The Ordinary, used by Alia Bhatt to tackle facial puffiness, priced at around 400 INR.
Step 6: Glow Recipe's Watermelon Glow Pink Juice Moisturizer – Hydration Essential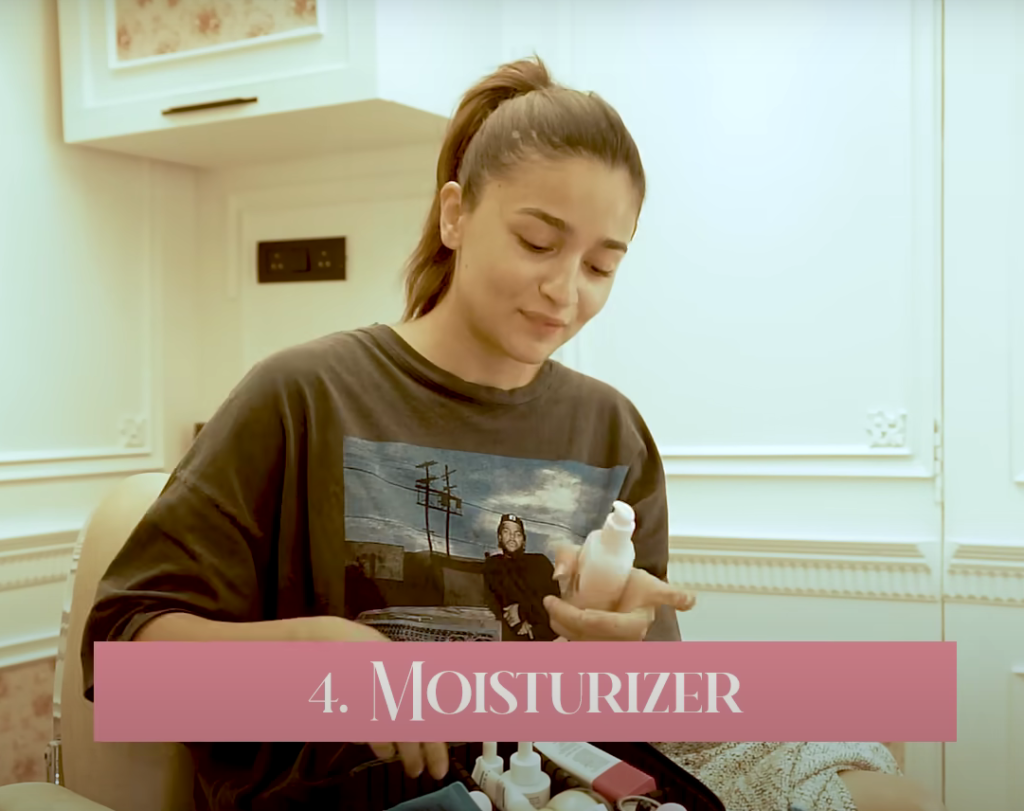 Embrace the refreshing Watermelon Glow Pink Juice Moisturizer from Glow Recipe, Alia's personal favorite, priced at $21 (₹1,563) for a well-hydrated, glowing complexion.
Step 7: Innisfree Aqua Water Drop Sunscreen SPF50+ PA++++ – Shield Your Skin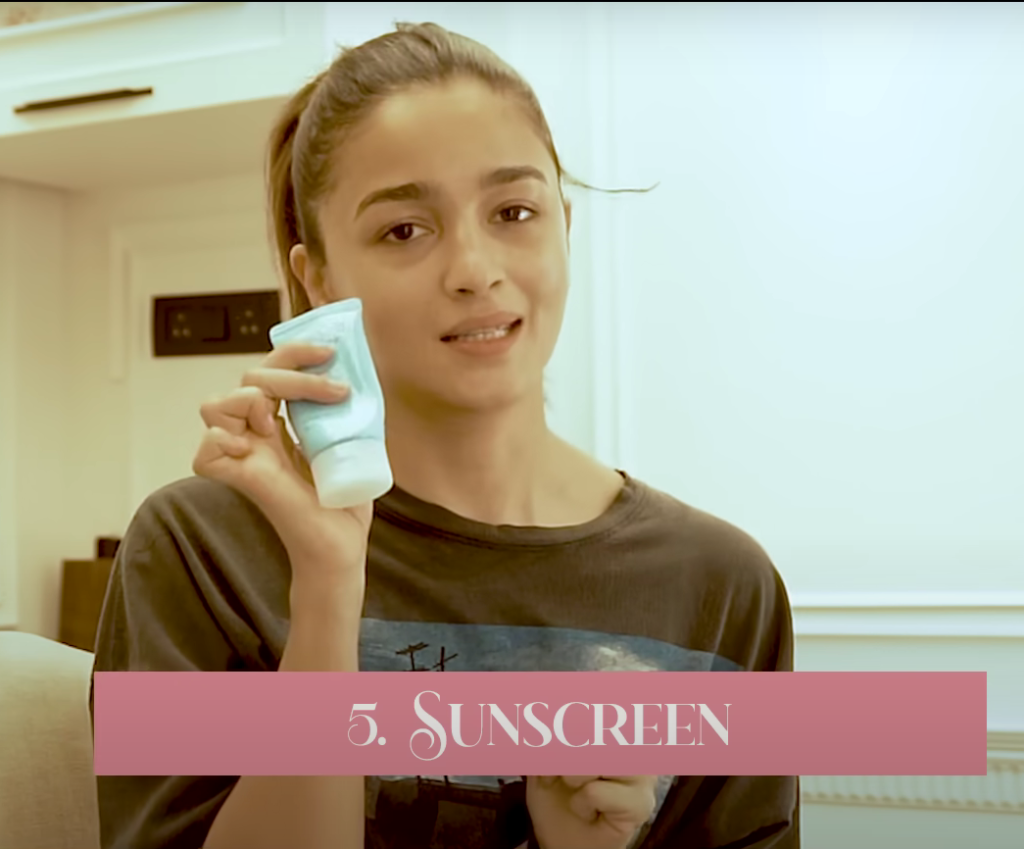 Follow Alia's lead and shield your skin with the Innisfree Aqua Water Drop Sunscreen SPF50+ PA++++, an essential defense against harmful sun rays, available for ₹1490.
Unlock the key to flawless skin with these handpicked skincare gems from Alia Bhatt's trusted routine. Embrace the glow and radiance that comes with a well-curated skincare regimen. Explore these products today for a skincare routine that reflects the star within you.
Read More: Pro Kabaddi League 2023 – Teams, Matches, Venues & Sai Pallavi Saree: Embracing Tradition with Elegance and Grace